District 2020 has announced that one of its key anchor tenants, Siemens, will grow its presence within its innovation ecosystem and future-proof community – which is set to evolve from Expo 2020 Dubai – following the signing of a 10-year lease agreement for two buildings. The agreement, signed at a ceremony on 5 March, will see the German company establish its Dubai operations at District 2020 from mid-2021, after the close of Expo 2020 Dubai.
The lease agreement outlines the establishment of different divisions of Siemens' business group at District 2020, including the soon to be spun off Siemens Energy. The announcement follows Siemens' 2017 commitment to establish a global headquarters for its airports, cargo, and port logistics business in District 2020.
The circa 11,000 square-metre office space will be among the most technologically advanced in the UAE and will serve as a base in Dubai for Siemens and the newly independent Siemens Energy. Approximately 1,000 Siemens employees are expected to work from the two buildings following Expo 2020 Dubai's transition into District 2020. The German company's presence will encourage industry growth, enable innovation, and stimulate job creation, bringing continuous long-term value to District 2020. 
The signing ceremony was attended by key representatives from Expo 2020 and Siemens, including Her Excellency Reem Al Hashimy, Director General, Expo 2020 Dubai; Marjan Faraidooni, Chief Pavilions and Exhibitions Officer, Expo 2020 Dubai; Dr. Roland Busch, Deputy CEO, CTO, and Member of the Managing Board of Siemens AG; and Michael Bueker, CFO of Siemens LLC & Siemens Middle East.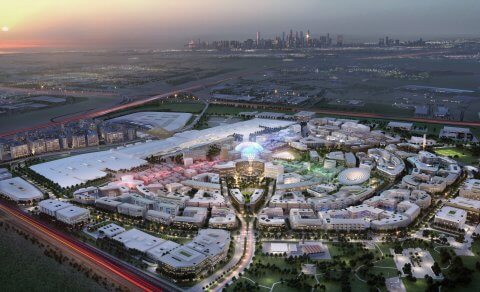 Marjan Faraidooni, said, "We are delighted to announce this long-term agreement that extends Siemens' commitment within District 2020, where they will play a key role in the transition of the Expo 2020 site into a tech-enabled and human-centred smart city. The partnership supports our vision to curate an ecosystem that enables cross-industry collaboration between global businesses, ultimately driving their respective industries forward.
"Collaborating with Siemens is significant as we work to create an innovation-focused environment that delivers value for decades to come, as part of a meaningful legacy for Expo 2020 Dubai. Thanks to its remarkable global reputation, Siemens will help us to attract other businesses who will benefit from being in close proximity to major players in technologies and growth sectors of the UAE economy." 
As Expo 2020 Dubai's Official Infrastructure Digitalisation Partner, Siemens' presence at District 2020 will help drive multi-sector innovation and idea sharing between organisations, particularly in Dubai's key industries of logistics, energy, and future technologies.
 The agreement also reinforces District 2020's commitment to curate a future-proof ecosystem underpinned by next-generation digital connectivity, aligning with the UAE's drive to become a hub for innovation and emerging technologies. Siemens' pioneering work in Internet of Things (IoT), cloud computing, and big data will play a key role in optimising the way the city operates and performs, ultimately to benefit the community that will work and live there. 
Dietmar Siersdorfer, CEO of Siemens UAE and Middle East, said, "Together with Expo 2020 Dubai we are developing a blueprint for future smart cities, making its legacy District 2020 a perfect base for our future operations in Dubai. Our new offices will be some of the most technologically advanced in the UAE, and our decision to call District 2020 home underscores our commitment to investing in the future of Dubai and the region beyond 2020."
The two office buildings will inherit the building technologies installed by Siemens for Expo 2020 Dubai. This includes the smart sensors from Enlighted, a Siemens IoT solutions provider. The IoT platform creates 'sensory systems' throughout the building, providing real-time data and analytics into how the building is being used. Siemens will also implement its digital building management system Desigo CC, and its cloud-based energy analytics platform Navigator which will connect 137 buildings across the site.
District 2020 is the physical manifestation of Expo 2020's long-term investment in the future of the UAE, boosting the economy, helping to spur growth and support jobs for many years to come. A report published in April 2019 by global consultancy EY predicted that Expo 2020 would contribute AED 122.6 billion (USD 33.4 billion) to the UAE economy and support 905,200 job-years from 2013-31. This 'economic dividend' will benefit a wide range of sectors, including transport, retail, food and beverage, hospitality, construction and business services. 
With more than 200 participants, including 192 countries, Expo 2020 will run from 20 October 2020 until 10 April 2021. It is expected to welcome 25 million visits.