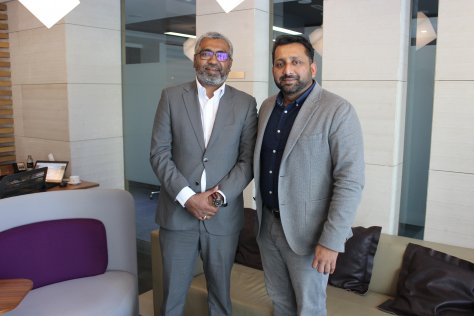 Ravi Sudarshan, regional manager, Middle East, 2CRSI along with Deepesh Pillai, managing director, SNB Middle East; its regional distributor, discuss how channel partners can truly leverage their partnership.
Having commenced operations in the Middle East since July 2018, 2CRSI, provider of servers, high-performance computing (HPC), rugged and customised IT appliances, is now doubling up its efforts to enhance its reach in the region. As part of this goal, the company has signed a partnership with value-added distributor SNB Middle East in the beginning of this year to effectively deliver its solutions to regional customers.
Middle East customers can now not only have access to reliable storage and computing solutions from France-headquartered 2CRSI but also be assured of energy efficient products.
Ravi Sudarshan, regional manager, Middle East, 2CRSI, says, "We are a unique manufacturer as 80 percent of our offerings are classified as green energy solutions. We are dedicated to reducing enterprises' energy consumption."
Speaking at a Partner Reach Out event, where channel partners were introduced to the vendor and its offerings, Deepesh Pillai, managing director, SNB Middle East, says, "We are excited to present to our partners how they can leverage 2CRSI solutions and build their businesses. From our perspective, 2CRSI is a niche technology vendor that offers futuristic solutions."
Pillai explains that the vendor's solutions perfectly complement the Dubai-born firm's current business model as well as match its future expansion plans. SNB's current portfolio includes server and security solutions.
"We do have a background in server computing or server infrastructure, which we don't generally provide to our resellers. The addition of 2CRSI into our portfolio fits right into that spectrum, allowing us the potential to explore this space further.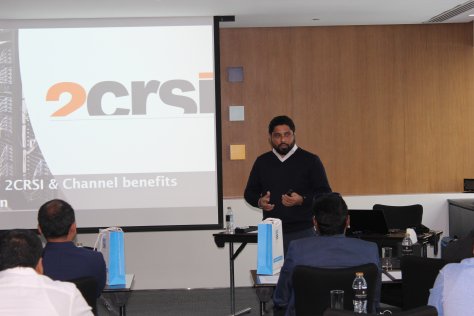 "Being a ten-year-old firm, we have elaborate expansion plans in the pipeline," he adds.
For a distributor, this means expanding geographical reach and increasing the number of solutions and products offering.
Pillai says, "Selecting vendors such as 2CRSI with whom we can have a long-term relationship is essential to our growth."
According to Sudarshan, there are two reasons why the firm chose SNB as its distributor. First, because the company boasts strong operations in the CCTV security surveillance market.
"Secondly," he says, "they are currently a distributor for storage solutions. This means our offerings will be a perfect blend as customers will have a demand for recording servers, management of servers, workstations for monitoring and so on.
"Partners will now have an opportunity to offer customers a comprehensive solution for their complete server and security needs."
As part of SNB's expansion plans, it aims to debut in the ICT realm, building on its robust security portfolio. The distributor plans to set up a dedicated business unit to run its ICT operations.
"Identifying that our security customers also have ICT requirements, we will set up the unit to help our partners scale their business, while also being another revenue source for us," Pillai explains.
"2CRSI is a leading global player in the ICT space. Another reason why we found SNB Middle East as an ideal partner," says Sudarshan. "Also, the distributor is strong in UAE, Qatar, Oman and Kuwait, which are all the markets that we want to build our operations in."
He adds that the company aims to continue being aggressive in the market and will only work through a "complete channel partner ecosystem for our products ranging from performance workstations to data centre solutions."
With the distributor boasting a strong partner network of more than 400 systems integrators, SNB's immediate priorities will be to educate them on its offerings and how they can best leverage the market opportunities with 2CRSI solutions.
Sudharshan says, "Channel partners need to understand the value and benefits of our solutions in order to position it effectively."
"And this is where we will play an instrumental role," says Pillai. "We will train partners to make them understand we are selling a solution and not just pushing a box product.
"We have to educate partners and end-users through events and trainings on how these solutions can help operations on a large scale. We have to explain how being energy efficient can lead to cost savings for a business so that customers are made aware and partners can take it to the right audience."
According to Pillai, as a specialised distributor, the firm offers value addition to both its vendors and partners.
"We are proactive with our vendors and feel confident that 2CRSI solutions have a huge market potential in the region."
He adds that the company will also look at delivering the vendor's solutions to markets such as India, Pakistan and Africa, besides the Gulf and the Middle East.
"Additionally, we would like to capitalise on our current channel that we have in place while also recruiting new ones. We are seeing a huge long-term opportunity with 2CRSI solutions. We are seeing clear value additions to our partners' as well as our business with this partnership."
He adds that the company is now seeking other products that can be complementary to 2CRSI solutions.
"We are clear on our strategy where we do not add vendors just for the numbers. It has to make business sense as well as match our objectives as a company. If we grow, then we grow together with our channel and vendor partnerships," Pillai says. "That being said, the partnerships we have can be strengthened further with complementary solutions, which we must carefully select."
In terms of growth, Sudarshan says if the firm is able to achieve 12 percent of the group's turnover from the region, he would consider it to be a successful year.
Pillai not only thinks this is achievable but believes his team can get it up to 20 percent based on the response from channel partners and pipeline.
He says, "This should be easily possible, but having said that, rather than an absolute number, we should be looking at growth from all directions – tangible and intangible aspects."