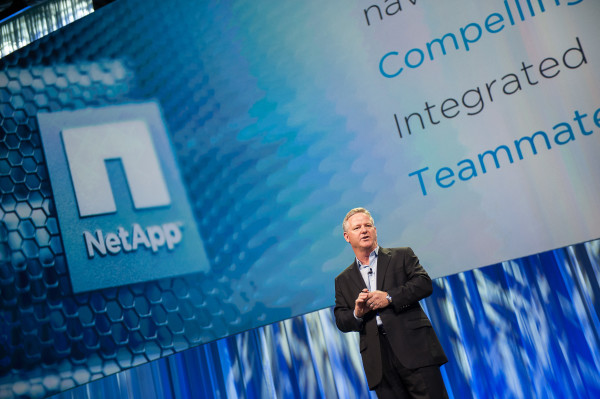 Gathering over 3500 attendees including industry experts, sponsors, customers and partners, NetApp hosted the 2015 edition of its Insight conference at CityCube, Berlin.
Under the theme 'Building Data Fabric together,' the annual technical conference, this year centred on the opportunities and challenges of the inevitable digital era and the NetApp's Data Fabric vision.
Manfred Reitner, Senior Vice President and General Manager, NetApp EMEA, kicked off the session to welcome and thank all the attendees who are representing companies from over 60 countries which includes its partners in the likes of Cisco, Fujitsu and VMware.
Reitner further underlined that the main goal of Insight was to create a platform where vendors and customers can share expertise and experiences with each other. "NetApp has always been focused on creating positive outcomes for customers. Understanding what goal our customers want to accomplish and working together with them in achieving such objectives is what we stand for."
He also highlighted that their partner ecosystem has been very instrumental in helping them turn the NetApp Data Fabric vision into a reality.
According to the company, Data Fabric enables organisations to control how they manage, secure, and move data across the hybrid cloud.
Company President Rob Salmon then gave his keynote presentation where he emphasised the three strategic elements which, according to him, are key to NetApp's success – 'innovation, partnership and culture.'
As for the industry, Salmon reiterated that the IT space has gone through significant developments and changes over the years. "With all the things are happening in the vendor-customer community right now, the impending digital era becomes more important than ever," he said.
"The data signifies more power for organisations in the future. NetApp's Data Fabric enables businesses to control growth, maintain its competitive edge, be agile, and balance risk and cost," added Salmon.
On the sidelines of the event, Joel Reich, Executive Vice President, Product Operations, NetApp, talked about how data is at the heart of businesses today. He also discussed Data Fabric ecosystem and making it work. "It is quite easy to move the data to the cloud, however ensuring proper integration is where the challenge comes."
Lee Caswell, VP of Product, Solutions and Services, Netapp, also shared several new products and enhancements by the company which include StorageGRID Webscale 10.2; new SnapCenter; new Commvault IntelliSnap for NetApp; expanded Synchronous Replication with MetroCluster; enhanced Professional Services for Disaster Recovery Solutions; Flash for the price of disk; extension of 3x Performance Guarantee Offer; new release of clustered Data ONTAP with Inline Dedupe and Copy Free Transition.
During the course of the four-day event, attendees also had a chance to choose among 300 break-out sessions and earn new certifications.