By:  Jacob Chacko Regional Business Head – Middle East, Saudi & South Africa (MESA) HPE ARUBA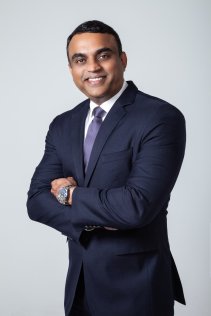 The healthcare industry has reached a crisis point. According to a recent Deloitte report, global healthcare expenditure is expected to increase from $7 trillion to $10 trillion by 2022, as the cost of providing services in every country across the world rises steeply. Combine this with our ever-expanding (and aging) global population, and the steady increase in average life expectancy (rising by 5.5 years between 2000 and 2016) and it is perhaps no wonder that current healthcare infrastructures are struggling to cope under the sheer volume of what they are expected to support.
From 5G-enabled remote operations to patient apps, digital innovations are being deployed to try and mitigate these challenges. However, there is one missing piece of the technology puzzle required to bring these key developments together and ensure the healthcare sector can keep scaling up – and that can be found at the Edge.
We developed a book with Fast Future  which aimed to uncover the wealth of possibilities set to be unlocked by Edge technologies over the next 3-5 years. Defined as technologies that allow the processing of data by devices at the Edge of networks, HPE Aruba has identified this as the next frontier. Moving processes and applications to the edge of the network will be imperative to enable the ongoing digital transformation of industries across the world, supporting everything from mainstream personalisation, to enhanced real-time insight, and faster product and service innovation.
And the healthcare industry is no exception, with a number of current developments already hinting at the opportunities at the Edge. So, here are three ways in which the Edge is set to reshape the world of healthcare.
Patient-Generated Health Data
IoT medical devices such as wearable sensors, blood glucose monitors, and healthcare apps are becoming increasingly common. In fact, US hospitals are already estimated to have as many as 10 to 15 IoT devices per bed. All of these devices are collecting huge amounts of Patient Generated Health Data, allowing medical professionals to better diagnose problems and monitor health over long periods of time. However, there is no point collecting all this data is you can't immediately use it, which is where the Edge comes into its own.
When using connected devices, clinicians need to access information as quickly as possible in order to make well-informed medical decisions – for an industry where a few seconds can literally be the difference between life or death any lag in delivery could be absolutely critical to the patient. By processing data at the edge of the network rather than transporting it back to the centre, Edge technologies are able to eliminate unnecessary latency and deliver far speedier results than traditional architectures.
This means that healthcare IT architectures can still gain the benefit of gathering health-related data while also getting the immediate, real-time analytics that can predict and respond to health emergencies. IoT medical devices can analyse a person's current condition and send alerts the moment anomalies are detected, allowing for rapid response times that may well save their life.
One example of the way in which the real-time analytics and rapid responses enabled by Edge technologies are already being used to improve care for patients can been seen in the treatment of diabetes in some countries. In this case, a sensor is embedded inside a patient to measure levels of insulin and automatically controls an insulin pump within their body. This innovation effectively regulates care and can help to prevent incidents which might result in hospitalistion or additional costs.
Remote healthcare
Conducting data processing close to the patient is particularly important for those in remote areas. And without Edge technologies, the healthcare industry is less poised to support these places. For example, lacking an internet connection prevents medical providers from being able to access centralised databases of patient data.
Portable IoT healthcare equipment developed by edge computing companies has the ability to gather, store, generate, and analyse critical patient data without needing to be in constant contact with a network infrastructure. Patients with wearable IoT medical devices can be diagnosed quickly and effectively on-site, and the information gathered from them can be fed back into the central servers whenever connections are re-established. By interfacing with an edge data centre, IoT healthcare devices can extend the reach of existing networks, enabling medical personnel to access critical patient data even in areas with poor connectivity.
Not only will Edge technologies' remote capabilities help rural areas, but they also have huge implications for emergency services. Edge solutions will allow for on-demand provisioning and continuous tracking of mobile healthcare units and accelerated diagnosis at accident scenes to improve stability treatment before transfer to hospital.
Driving new revenue models and cost savings
From an operational perspective, interconnectivity is another potential source of cost savings. Medical providers have long been plagued by incompatible systems and burdensome recordkeeping that could be all but eliminated by networks of IoT medical devices and Edge technology applications that communicate quickly and easily across organisational boundaries.
Conclusion
The ability to monitor patient data at the point of care and improve remote services through Edge technologies, can transform patient outcomes, while also enhancing the ability of health professionals to deliver efficient care.
In short, the healthcare industry stands to benefit immensely from Edge technologies. And with rising costs posing an ongoing threat to people's access to healthcare services – these innovations, and their ability to boost efficiencies and deliver better value, should be embraced quickly.