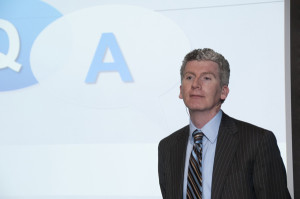 Motorola had much to boast about during this year's Critical Communications World event, and Tom Quirke, VP and General Manger of Motorola Solutions' Global TETRA Organisation, tells CNME that the worldwide leader in TETRA technologies has set its sights on the Middle East.
What was the major take-away from the Critical Communications World event this year for you?
I think one of the big things was the realisation that we've hit a third year in a row with record growth in this industry. You have to ask why this is, why is technology that's been around for 10 years suddenly seeing rapid growth? The customer base we have is risk-avoidant and cautious, and they're beginning to see TETRA technology do what it claims to do.
Take the royal wedding in the UK for example, they've seen it prove itself in so many venues.
The other side is that mission critical entities are starting to move into the digital age. Take utilities for example — water and electricity — they're moving from traditional analogue to digital, and see us investing heavily in TETRA technologies. It's public safety that controls the standard of TETRA.
What are the key areas you're focusing on now that the interest is growing?
I think that certain countries have adopted it because they're coming to the point where they need to make nationwide decisions, and TETRA gives them this nationwide ability.
We focus on a few key areas which are beneficial for any region — voice and data are critical. Voice is very important, if you have no voice then you have no situational awareness, so we're investing heavily on the voice aspect. This tells you if there is about to be a full-on riot, and you cannot be looking down waiting for a message — this is eyes-up, preparing to request for help while the voice guides you.
You're a leader in this sector, but who is your major competition?
You need to be of a certain scale if you're doing nationwide networks, and I only know of two that can do it; us and Cassidian, which is a sub-company of EADS, well-known for its work with Airbus.
From our perspective, we've planned for the future. We understand that when you make an investment into a nationwide network that you need that investment future proofed. In that sense, we make it easy to upgrade, it's an IP core, and it's virtualised. So we're not linked to hardware for switching, we totally decoupled the hardware from the software. What this also means is that with LTE, for example, we can add parts to the core network to support this. It gives you a unified LTE TETRA network.
What does TETRA's future in the Middle East look like?
I think it will play two roles. Nationwide technology for public safety will be a big priority and inevitably that will be TETRA. People's lives can be at stake all the way to the border of any country. TETRA will allow nationwide resources — this will be a driver.
Secondly, a commercial community will build. Oil and gas is a massive market for us here, they want secure communications and they're based in places where there's nothing. They have specialist requirements which we can deliver.
In summary: we're looking at making cities far safer with better audio quality and data quality; we're making sure that the commercial sector gets a return on its investment immediately; and then we're future proofing networks. These networks run for over 20 years, all of our conversations are about refreshing TETRA. This tells us clearly that people are already looking to refresh and move into the next phase of TETRA.