In a superb interview with CNME, Abhijeet Sanyal, Vice President, Technology Staffing Services at Raqmiyat, talks about how the company is helping its customers address their talent acquisition problems, what differentiates them as a managed services provider – and tells us more about their Microsoft Services portfolio.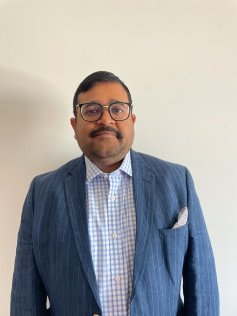 Can you outline to our readers in detail how Raqmiyat TSS (Technology Staffing Services) is helping businesses address their talent acquisition and retention issues?
Raqmiyat with its TSS business has been at the forefront of talent acquisition and contingency workforce management for many years. Over the years as the industry has evolved so has the talent acquisition strategies.
Since Raqmiyat is not just a staffing company (we are a Digital Transformation enabler) we have the know- how as to what is required by the business/governments to achieve their digital transformation objectives. Our talent acquisition teams engage with the business owners (not just HR/ recruitment functions) and formulate hiring plans that are robust/dynamic and align with the overall strategy and vision of the organisation. Coming to the next pain point of retention of good talent, we at Raqmiyat pay a lot of attention to this aspect as the cost of hiring a new competent resource is much more than the cost of losing a good resource.
To overcome this, we have an efficient Employee Relations team at all locations who connect with our associates periodically and also on a need basis / understand their pain points and resolve them through comprehensive dialogues. Sometimes, there are issues where we need to involve the customers as well. I can proudly say that the attrition levels at Raqmiyat are way lower than the industry average and multiple factors are attributing for the same.
Raqmiyat has provided TSS for over 20 years, but have you seen an exponential increase in demand for your services due to the speed at which technologies has matured and been adopted by enterprises in the new digital economy?
I would like to answer this question differently. When we started this business, we were known in the market to provide good quality junior- level IT engineers and we did wonderfully well in that space. Over the years the markets have changed and we have changed as well. The focus now is more on the quality and value of the resources rather than the volume of hiring. So, to answer your question on the exponential increase in demand the answer is no but we have gone up the value chain in the technology space which helps us create more value for our customers.
The advancements of technologies and the way it has matured have helped us create this value proposition for our customers.
There are many entities that provide IT  Managed Services across the UAE, and it's a saturated market, but what is it about the way Raqmiyat provides their IT Managed Services that differentiates you from your market rivals? Is it your experience and trust that distinguishes you?
I agree with you that IT Managed Services is a crowded marketplace. However, it is not saturated and there is ample scope to penetrate and create your own niche. Raqmiyat brings a value not many can as we can proudly say that we are a 100% Emirati company which is owned by Al Ghurair Group. We come in with our range of services thatcomplement the IT Managed Services which the customers typically need.
Though we started this practice only couple of years back we have seen a tremendous positive trend and have executed large government projects with aplomb.
The trust with the brand Raqmiyat brings to the table is something that is unmissable and of course, the team we have is well experienced in managing such projectseffortlessly.
Can you give us more information on your Microsoft Services Portfolio and explain how your customers can enhance their business operations from these services?
Raqmiyat has restarted its Microsoft Practice. I will be leading this challenge in the coming years. There are three broad areas we will be focusing on for the short term before we establish ourselves in this space and then grow further. Microsoft Modern Workplace solutions (O365, Teams, Sharepoint, Endpoint Management, Security solutions, etc ) are meant for customers to improve employee productivity and satisfaction, and create more seamless  communication and collaboration across locations and platforms while maintaining the security and integrity of systems and data. Microsoft Azure – – It is the Microsoft Cloud Platform.
Advanced digital capabilities to cater to real-time decision making and situation handling is the USP of cloud Infrastructure. Customers are gaining agility and efficiency, driving innovation through new data-driven insights, and capturing new advantages through cloud-based advances. From infrastructure and data management to industry- leading AI and Internet of Things (IoT) capabilities, your customers need a cloud platform that's ready for their most ambitious goals to outperform their competitors— on their terms.
Microsoft Business Application ( on Cloud ERP – Microsoft D 365 ) – Controlling business activity through seamless integration of business departments and activities which allows top management to take decision based on real-time scenarios. With Advancement in technologies, real-time decision making and insights into the current business and market situation to decide the growth path has become the need of the hour. Microsoft D 365 is amongst the top cloud-based ERP available in the market.