James Dartnell sat down with Infor president Stephan Scholl to discuss the firm's ambitious plans to quintuple its regional market share in the next five years, and why it is now finding stability under new leadership within the India, Middle East and Africa region.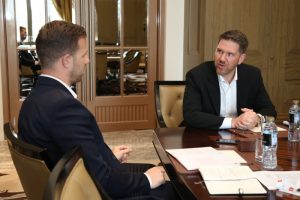 The 131 percent year-on-year growth Infor has achieved in the Middle East shows real progress has been made recently, but your series of regional leadership changes in the last few years also suggest things have been rocky. Why's that been the case?
Until Tarik Taman joined as IMEA general manager, we had a channels-only strategy, meaning that we were trying to rely on partners to represent our brand and our coverage model. In a region that is this dynamic, where relationships are so important, customers want to hear directly from the company and have local delivery capabilities and commitment for the long run.
It wasn't an issue with individuals. We were doing well in that mid-market segment with a couple of upmarket transactions, but the upmarket demand for our new services around digital and cloud made us realise that we weren't servicing the market right. It's now a whole new team of people servicing customers directly.
Tarik has claimed that Infor is the 'iPhone of business systems' – which industries will you disrupt?
Of the 13 major industries that we have complete cloud suites for, the four that we're aiming to disrupt are manufacturing, hospitality, healthcare and the public sector as one, and retail.
How will Amazon Web Services' – your cloud provider – recent outage affect the perception around cloud, and in your cloud services?
There was an article three days after the outage which reported outages across cloud providers, including Microsoft, IBM and AWS, and AWS had the lowest rate by a mile. When you think about failovers and production systems, AWS has such a great track record, to the extent that I would say they are better than companies running on their own internal data centres. I'm not too worried about it.
AWS aside, does the outage expose the shortcomings of cloud, and show how something as unavoidable as human error could cause such havoc?
I've talked to about 15 customers who are working on big cloud deals, and last week they viewed it as a hiccup. At least two of them said that they'd previously had their own outages, which took days to get up and running again. At least with AWS, you saw them get through it and respond quickly. Not one customer that I've spoken to has said they won't go through with work or that they're worried about it.
How is the $2 billion investment you received from Koch Industries being spent?
It starts at the top with their CEO, Charles Koch, and he leads a $115 billion conglomerate looking at digital as a huge disruptor to their business model. I can't believe the comfort it gives us around them believing that they can completely upend how they do business through digital transformation. They're aggressively working with us on global HR and financials implementation – we already have our first two projects there – and asset management, including IoT platforms, which they're putting in their refineries.
They're looking at digital as a means of preventative maintenance. One maintenance call is a $25 million pain point for them. Personally, I'm glad it was Koch that made the investment and not another PE firm. They have size and scale, and view us as the digital disruptor of their business. They have a different business mindset around short versus long-term. They don't have a PE mindset, and take a minimum of five years, and mostly a 10-15-year view of a business model. That's not dissimilar to Infor in some respects.
They have the same ilk of not forcing us into a one, two or three-year cycle. In our business, that's a rarity.
Are there any prospects of an Infor IPO in the near future?
Charles Koch and Koch Industries have said that's always on the table. If anything, they'd want to do it for branding. When you think we'd be one of the biggest IPOs of all time, the branding would help us. But otherwise, there's no other reason to do it today. We don't need it for the money or our capital structure. Our debt maturities are good with Koch investment.
You often discuss how Infor's mission is to have mission-critical applications in the cloud, and to run a business in the cloud. Is that being achieved globally and in the Middle East?
Absolutely, and at a faster pace than I thought. Have I declared success yet? No, it's a journey, but who would have thought that a year ago, a company like Triumph in the UK who sell motorcycles would move their mission critical apps into the cloud. Travis Perkins, another British firm, has mission critical apps for 24,000 users in the cloud. Our competitors didn't think that would happen. They thought it would just be HR, financials and CRM, but for me, it's been exciting to see such a big market opportunity for us.
'Innovation' is the buzzword of the day in Dubai's tech industry. What do you make of the GCC's appetite for it and how have you seen examples of it in the Middle East?
I've been impressed with the globalised view of companies in Dubai. Most companies that do business in Dubai also do business in Europe and around the world. We're seeing the expansion of companies here going global. Also, local companies are not only relying on global supply, they're building relationships with distributors, customer logistics and manufacturing support.
In Dubai, the Middle East and Saudi Arabia, we're seeing customers move very aggressively to cloud discussions and solutions.
Why have you chosen to base your first non-US-based Hoop & Loop design agency in Dubai?
People are hungry and ready to move quickly in this region. Whether it's government or private industry, they want to move quickly and build big. The number of people in that agency will be demand-based. The good news is that we can hire rapidly. We're also opening an agency in London, so it'll be Dubai, New York and London.
Do you think proposed visa law changes to the UAE could present an opportunity for Infor in building an innovation hub in the UAE?
I do. A lot of it will be based on local demand. I don't think we're at a point where we can take design thinking and make a centre of excellence for the rest of the world, but if we take one for the Middle East, that makes a lot of sense to build on the Hook & Loop investment.
We went to a small town outside of Wroclaw in Poland and found two of the best universities that were English-speaking, and we've hired 500 people in less than a year to build a Poland data centre. We've just bought Accentia Middle East in Cairo, which has around 100 employees. I've told them to create a business plan to make it a 500-person organisation as fast as possible so that we can build a centre of excellence to support not just the Middle East, but also Europe and the US. If there is similar applicability around universities, education and demand, we will absolutely build one here in the UAE.