Sami Abi Esber, President, Midis System Integration and Board Member-Midis Group, discusses how MIDIS SI Group has leveraged its expertise to introduce cutting-edge technology solutions to the market, while remaining focused on the customers needs.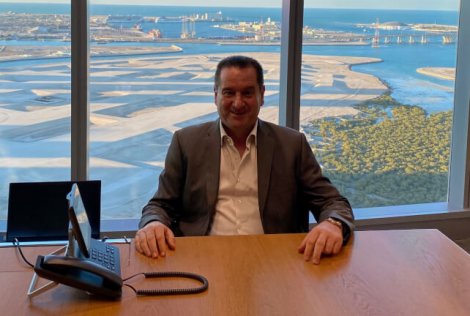 Tell us the Midis System Integration story: How has the company grown to where it is today?
Midis SI Group has always been on a mission to introduce cutting-edge technology solutions in the region. As we grew over the years, we have always focused on the needs of our end customers while maintaining   strong alignment with our business partners and expanding our partner eco-system to cover the majority of our customer needs. We rely on business entrepreneurship at the heart of our model. This is coupled by stringent governance and financial management as well as a code of conduct that ensures the highest levels of integrity in all of our operations. This helped us earn customers' and partners' trust and respect. Our portfolio today is quite comprehensive and diversified. We are proud that our customers and partners see us as the leading system integration partner in the region. Core to our growth strategy was to be closer to the customer. This is why we are today present across key markets in all the geographies we cover. Midis SI group, the system integration & services arm of Midis group, is now present in 13 countries across 20 cities with over 2,500 employees. Our human capital is spread across sales, pre-sales, implementation, tech support  and other departments with the majority of employees in professional and technical support services. We have the highest level of partnerships with global technology vendors across the region. We focus on technologies and solutions such as cloud & data centre infrastructure services, managed IT services, managed security services, software & professional services, end user computing, mobility & communications, Site and Power business which builds data centres to name a few.
Our success story has been steady and consistent. We've managed 17% CAGR in the last 10+ years. Then again, because of our unstinted focus on our customers, we've been rated the #1 IT Service Provider in different countries. I can confidently say that the company's growth is based on entrepreneurship, innovation and a hands-on presence in the market coupled with continuous investment in resources and strong governance. We've always made sure that our solutions are relevant, transparent and flexible, resonating well with our customers and helping them build a relationship of trust with Midis SI group. For us, what matters at the end of the day is a satisfied customer and for this, we're ready to travel that extra mile.
How would you describe the technology market in the Middle East? What are the opportunities here?
The Middle East market is a dynamic one and despite the fact that it represents only 2-3% of the global ICT market, it is innovative, progressive, resilient and extremely adaptable. Governments in the region are catalysts for change and they are willing to adopt advanced technology in key areas such as healthcare, eGovernment services, education and many more. All with the goal of improving citizen services and quality of life. In fact, the market is exciting and full of possibilities because we have plenty of opportunities and a modern infrastructure which allows us to deploy advanced solutions and be creative with our ideas. However, like all other markets, here too, there are challenges and pain points. Perhaps the main bottleneck here is that the Gulf region depends on the oil sector to a large extent, because of which fluctuations in oil prices tend to affect the overall market and IT spend. Geopolitical tensions in the region as well are another challenging aspect. The high suscaptance of the region to cybercrimes and attacks is definitely a matter of concern.
The Middle East market is rapidly moving towards cloud adoption and while private cloud was the main choice initially as well as SaaS solutions, the advent of mega-scalers like Microsoft and Amazon in the region opened up more opportunities and cleared some of the obstacles that prevented wide-scale cloud adoption.  So, while some solutions were not possible in the past due to lack of scale or a suitable platform, now a wider range of solutions and opportunities are available and we can drive innovation in a more aggressive way. We also see a major thrust in analytics, AI and Big Data to help improve citizen lives, make them safer, optimize business performance and create new revenue streams of non-conventional services. So yes, the Middle East market is poised for some very interesting developments and we're keenly following the trend.
What is the company's differentiator as far as market consolidation is concerned? 
As a group we are very progressive and agile. When it comes to financial stability, we've always strived to maintain a strong balance sheet and capitalisation which allows us to use our own resources to finance our growth and expansion . This means that if there is a crisis, we can continue to retain focus on customer service without having to resort to any drastic measures. This also permits us to remain a solid player for the long-term and gives us the ability to be a reliable partner with major vendors and technology providers. We are also blessed that we can pursue acquisitions to complement our portfolio of products, services and solutions. We're always open to feedback and are constantly evolving. We re-organise ourselves to remain cost-effective and competitive in the market as well as synergize between the various group companies to deliver an end-to-end solution to the customer. Still, our biggest asset is our large family of 2,500 experienced and dedicated employees who made the Group what it is today.  So, we are well prepared to weather the storms affecting the market.
How has MIDIS System Integration group transformed itself as a leading Digital Transformation player by aligning with new market trends, technologies such as IoT, Big Data, Cloud, Security and AI?
A few years ago, the Middle East market was clearly shifting to what is called the third platform, which was all about accelerating digital transformation. So, we worked closely with our partners, customers and key vendors to devise strategies and frameworks that focused on emerging technologies such as IoT, Big Data, Cloud, Security, AI and others.
In this connection, let me highlight a few initiatives that we've spearheaded in this space. We acquired eHosting DataFort, a leading managed hosting and cloud services company which can provide managed services on both private as well as public clouds. We also acquired LiveRoute, a dedicated Microsoft Azure partner and one of the leading Microsoft services and cloud partners in the region. We also developed strong capabilities in providing managed security services and building as well as operating security operations centres for government, aviation sector, BFSI , Retail and Hospitality and many others.
Recently, we partnered with a leading AI vendor in the area of Time-Series and will be making an announcement about this soon.  We are focusing on building AI and Machine Learning expertise and partnerships, not only at the technology level, but as an end to end solution that can deliver business value to the customers based on industry use cases. We also have some very exciting ongoing projects under execution by our Site & Power Group where we are building the biggest  Data Centers for the regional and international players based on the latest technology, but as you can appreciate, we are not in a position to give out the details because of the sensitive nature of these projects. But one thing is for sure: these projects will help boost cloud adoption and digital transformation in the region.
We also believe that the time is right for IoT. A few years ago, it was hyped and limited to a few use-cases, but now the concept has grown and you'll soon hear from us about some new partners we're joining hands with for IoT. In fact, we're already implementing POC's for key IoT solutions in the transport and oil sectors.
Midis SI group is passionate about Big Data and some of our affiliates specialise in Big Data-for instance, MDSAP are working on some very interesting projects with SAP to that effect.
That's not all. I am very pleased to announce that we've complemented our Big Data and robotics process automation portfolio (RPA) with the recent acquisition of Magnoos, A Value-Added Reseller and Technology Implementation company specialised in the Data Management & Analytics, Service Management and Automation software solutions industry.
We've also come a long way in positioning ourselves as a leading SI of choice for customers looking for digital transformation solutions. This, coupled with the range of technology partners and companies that we have, allows us to build an ecosystem where the expertise is present within the Midis SI group itself.
We are fortunate to have as many as 56 entities across various specialisations within the Midis SI group– to provide end-to-end solutions from within the group companies. We're also fully capable of partnering with 3RD parties to strengthen what we call the digital eco system. We're also focusing on IT operations management and IT services management – these are big drivers  to improve availability, service turn-around time and quality of services – especially with the challenges that multi-cloud adoption bring about and customers looking for reliable partners to help them effectively manage such hybrid environments.  The acquisition of Magnoos strengthens our relationship with BMC, a leading player in that space and coupled with the Midis SI financial strength and market reach, it will enable us to help many more customers and service providers address the challenges of IT Operations management – ITOM , and IT service Management ITSM.
For RPA, our acquisition of Magnoos, allows us to expand the partnership with Automation Anywhere® and to help customers improve internal and external processes with intelligent workflows and process automation to reduce time, improve efficiency, reduce errors and drive quality. The acquisition of Magnoos also complements our offerings in the Big Data/Analytics space, as Magnoos is a key partner for Informatica®, one of the top providers of Big Data capabilities in the world and the region.
What is the 2021 market outlook for Midis System Integration Group?
Our crystal ball is as good as yours, however, we believe that the market will pick up again in 2021 and beyond. The COVID-19 crisis accelerated the drive for digital transformation. This is why the IT sector did not suffer as much as other sectors, and overall is likely to be flat for 2020. We believe countries in the region have done a good job in controlling the spread of the virus, and with greater awareness, lower mortality rates and the very real possibility of a vaccine in 2021 we're hoping that  the market will gather momentum sooner rather than later. With the gradual anticipated increased demand on travel, transport and production capacity, we expect oil prices to improve from 2021  onwards. This will have a positive impact on our markets and the government spend in general.
I must say that some sectors of the economy, however, have been more impacted than others as we all know. Those might be slower to pick up to pre-crisis levels. We believe markets in 2022 will return to healthy growth and we are hoping that at the geo-political level, things will stabilise in the region and more investors become more confident to explore the region than ever before.
How are the company's acquisitions expected to benefit the group as well as the different stakeholders (customers, vendors etc.)?  
The acquisitions add, complement and strengthen certain capabilities of the Midis SI group.  As you rightly pointed out, the strategic acquisitions we make, do benefit multiple stakeholders. For customers, it means that they can rely on Midis SI and its group of companies to provide end to end solutions in any of the newer technology domains in the region, namely Cloud Services, Big Data and Analytics, IoT, AI and ML, etc. Acquisitions also help us acquire some vertical expertise in areas where we don't have such expertise, hence can speak the customer's language and address their business priorities.
For our technology partners, it means a wider reach to customers, and accelerating growth by using the Midis platform to reach more customers. For our employees, it means opportunities for professional growth and opportunities as we integrate the new companies in our eco-system and scale the business, so a good acquisition is a win-win formula for all stakeholders.