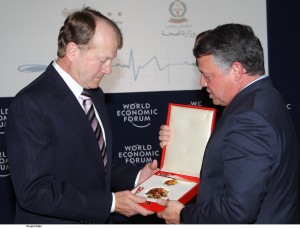 His Majesty King Abdullah II of Hashemite Kingdom of Jordan and John Chambers, Cisco's Chairman and CEO, formally inaugurated Jordan's first Healthcare ICT Task Force,  at a session, held alongside the World Economic Forum 2011 at the Dead Sea, Jordan.
A joint effort by Cisco, King Abdullah II Fund for Development (KAFD), and Jordan's Information and Communications Technology Association (int@j), the Jordan Healthcare ICT Task Force is an open forum of Jordanian Health Information Communications Technology (ICT) companies under the umbrella of int@j, representatives said.
According to them, the Task Force's main objective is to advance Jordan's healthcare ICT cluster capacity and promote Jordanian healthcare ICT technologies and companies on a local, regional, and international level.  Cisco's role will be to help in provisioning guidance, mentorship, and support to the Task Force's programs, Cisco said.
The Task Force was launched at a special roundtable session on the sidelines of the World Economic Forum Jordan 2011 at the Dead Sea, with the participation of Cisco healthcare solution executives and Jordanian healthcare ICT technology companies executives.
Discussions focused on the potential and future opportunities in healthcare ICT in the region and globally, including high level future plans. The session also included an exchange on the progress made in Jordan's "Hakeem" program, run by Electronic Health Solutions (EHS) a non-profit company aiming to computerise the public health sector in Jordan, it was reported.
The inauguration roundtable session also witnessed the presentation of "Al Hussein Decoration for Distinguished Contribution of the First Degree" to Cisco's Chairman and CEO, John Chambers by His Majesty King Abdullah II, in recognition of his continuous efforts and commitment to strengthen Jordan's education and ICT sectors.