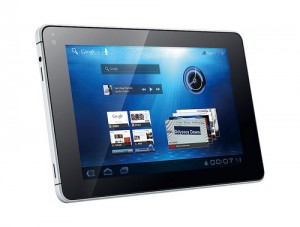 Chinese telecommunications equipment manufacturer Huawei unveiled a 7-inch tablet, called the MediaPad, running version 3.2 of Google's Android mobile OS today. It plans to sell the device in the Americas, Asia-Pacific and some European countries in the third quarter.
The tablet is the first to use version 3.2 of Google's Android OS, details of which have not yet been posted on Android.com. Where the 1.x and 2.x versions were designed for smartphones, the 3.x versions are optimised for tablets.
Versions 3.0 and 3.1 were designed to run on 10-inch tablets, according Victor Xu, Huawei's chief marketing officer for devices. "Android 3.2, however is specifically designed to run on a 7-inch tablet," he said.
Google's Greater China sales and operations director, Keven Tang, said, "With Google's latest technology, Huawei's MediaPad will bring a lot of customer experience and more choice to the consumer."
Huawei declined to reveal the price for the device. But the company said it would be sold through telecommunication operators as well as retail outlets. The tablet is 10.5 mm thick and weighs 390 grams. In contrast, Apple's iPad 2 is 8.8 mm thick and weighs 613 grams.
The MediaPad's features include a Qualcomm dual-core 1.2Ghz processor, a 5-megapixel camera at the rear and a 1.3-megapixel camera in front, and an HDMI port. It can play back 1080p high-definition video, according to the company.
While Huawei is not known as a tablet manufacturer, the Chinese company is attempting to grow its presence in the mobile device market. It already produces mobile phones sold through telecommunication operators.
Last year Huawei launched another tablet device, the Ideos S7, in some markets. The tablet ran Android 2.1 and cost between US$300 and $400. Huawei's new MediaPad, however, is using the latest technology and could seek to compete against tablets from the likes of Apple, Samsung and Motorola.
Apple has the biggest share in the tablet market today, with the company's iPad devices making up 835 of all tablet sales last year, according to research firm Gartner. For this year, Apple's share is forecast to fall to 67% as its rivals enter the market with their own devices. Gartner expects Android tablets' market share grow to 21.9%.