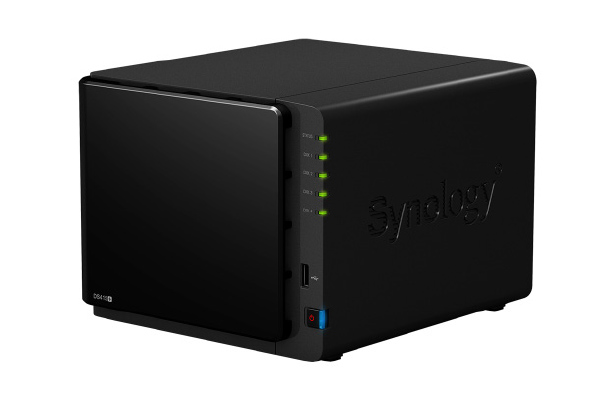 Synology's DS415+ beats any existing NAS systems belonging to competition today.
Synology's DS 415+ is designed to deliver high-performance without any hassles. The DS415+ not only archives data but also features a host of added tasks, which a small or medium business enterprise will find to their advantage.
Developed with a new quad-core 4-bay box design, the DS415+ is an ideal solution for consolidating data backup across many platforms. The device is designed with 2GB DDR3 RAM and houses four drive bays, which can be combined with external storage by using the in-built USB 3.0, 2.0 and eSata ports.
The device allows the user to protect data and simultaneously achieve high-performance with the Link Aggregation feature. By enabling this, DS 415+ delivers high reading and writing speeds.
What's interesting about any NAS device is that once connected to the network, it works like a store house for any kind of media, from images and music to even heavy surveillance videos. SMEs can maximise all the apps of the device by using it as an email server or FTP server, for photo streaming or even as a web station. The web-based operating system, DiskStation Manager (DSM) 5.0, enhances the device through varied applications for higher productivity and provides a new level of multimedia experience.
Targeting both SMEs and home users, the device's most appealing function could be the Media Server app, which is responsible for sharing multimedia to phones, tablets and other consoles. It is a simple and effective app without any complications.
Essentially, it is a cloud-enabled device and this means a whole world can now be accessed effortlessly. With the cloud-sync feature, customers are able to access files stored on the device even when on the move. The built-in cloud features enable the device to transform into a VPN server or VPN client, allowing businesses to offer differentiated services in a safe and secure manner.
The device's user-friendly interface is another one of its plus points, as it is convenient to use and the user can get a hang of it easily enough. The device is impressive in terms of speed and specs and is worth every dollar spent.
Although it is an impressive product, it could be an excellent one if Synology had designed a system, which came with built-in hard drives and easy plug-and-play set up options. For the average IT professional, the set-up will be manageable, however when it comes to an individual user, it could be difficult as one needs to know the technical aspects of providing ports. But this is a minor point, when considered the overall performance and functionality of the device.
All in all, DS415+ is an exceptional device that can drive high-performance and achieve guaranteed results.