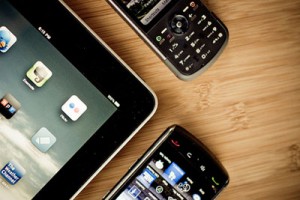 HP today set out to tackle the BYOD (bring your own device) problem, with the announcement of a new set of solutions that simplify mobile device access, automate secure site-to-site connectivity and improve rich media application performance across the HP FlexNetwork architecture.
Unveiled at Interop 2012 in Las Vegas, HP Virtual Application Networks solutions include modules for HP Intelligent Management Center (IMC), to simplify on-boarding, provisioning and monitoring of employee-owned devices across wired and wireless networks.
The new HP Dynamic Virtual Private Network (DVPN) enables the automation of secure network connectivity to any location. The company also introduced a HP 10500 campus core switch that delivers throughput for rich media applications.
"Legacy networks are not equipped to handle initiatives like BYOD, mobility and bandwidth-intensive rich media applications. HP's Virtual Application Networks solutions ensure that our clients are able to transform their networks to securely embrace the demands of new devices and rich applications with a unified approach," said Mike Banic, VP of marketing at HP Networking.
He added that HP IMC for unified wired and wireless networks provides secure application access to employee-owned devices without putting the organisation at risk.
It simplifies management with a single platform to on-board, provision and monitor both company- and employee-owned devices for consistent and predictable user application experience.
HP has also automated the configuration process of setting up and deploying virtual private networks by enabling a 'zero touch' deployment of routers across enterprise locations through HP IMC using the new HP DVPN solution—an industry-first capability.
HP IMC provides visibility of each device on the network with a single-pane-of-glass management and virtualisation platform that spans the HP FlexNetwork architecture.
HP said that with DVPN enterprises can reduce IT complexity by 93 percent, save on operational costs, accelerate the deployment of secure connectivity to any location and provide a consistent rich media application experience for users across wired and wireless devices.
It added that the HP 10500 Series switch increases application performance of rich media like voice and video with 75 percent lower latency and 1,090 percent greater throughput than the competition.
It also delivers 526 percent higher 10GbE port density to eliminate network bottlenecks and improve bandwidth, the company said.
The HP 10500 supports four-port 40 GbE with the addition of new line cards and uses HP Intelligent Resilient Framework, an HP innovation that allows multiple switches to be virtualised and operate as a single switch.
HP BYOD solution modules for IMC 5.1 sp1 will be available in June starting at a U.S. list price of $2,739.
HP DVPN solution modules for IMC 5.1 sp1 are currently available worldwide starting at a U.S. list price of $8,398, whilst HP 10500 Switch Series is also currently available worldwide starting at a U.S. list price of $32,999.
CNME sub-editor Ben Rossi is reporting live from Interop 2012 in Las Vegas this week. You can follow live tweets at @computernewsme and #interop.