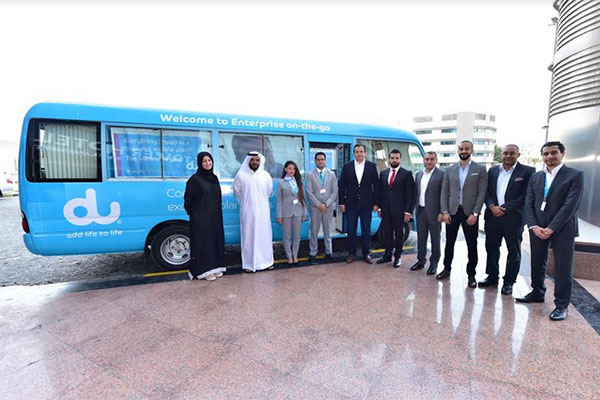 UAE-based telecom service provider du has recently launched its first Business Mobile Centre at the Dubai Health Authority.
The telco firm's executive vice president for Enterprise Business Hany Fahmy Aly inaugurated the new mobile air-conditioned bus, which aims to bring du closer to business customers and offer easier access to sales and services.
According to du, through the new 'Business Mobile Centre' customers will benefit from several services, including bill payments, mobile number portability, contract renewals and other service-related inquiries. It will also help du in its efforts to acquire new customers. Furthermore, the du Business Mobile Centre is scheduled to stop at other government and business customer entities in the coming weeks, with operating times from 8 am to 2 pm.
"At du, our relationship with our enterprise customers in the region is extremely important for us. We are always trying to engage with our business customers and meet their changing needs, which is why we have created a Business Mobile Centre," said Fahad Al Hassawi, deputy chief executive officer, EITC.
He added that instead of their customers going to one of stores, the new Business Mobile Centre can now be right on their doorstep offering the company's convenient and innovative services to keep enterprises connected. "We look forward to the next few weeks and providing our customers with a mobile service to suit their every business needs," Al Hassawi said.