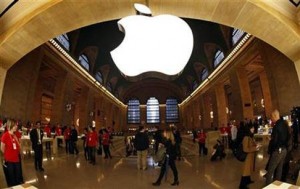 It appears that Apple is back for more after it asked for additional damages of $707 million from Samsung following the patent row.
The tech giant has already been awarded more than US$1 billion in damages when it triumphed over Samsung in a hard-fought case in late August.
The request includes an enhanced award of $535 million for wilful violation of Apple's designs and patents, as well as about $172 million in supplemental damages based on the fact that the original damages were calculated on Samsung's sales through June 30. Apple wants the supplemental amount to cover the period from July 1 through the date when the case is resolved, which it estimated as December 31, 2012.
In its filing with the U.S. District Court for the Northern District of California Apple also said that if the court decides to review the damage award based on a challenge from Samsung, it also wants an additional $155.8 million for five infringing products where the jury awarded less than the minimum amount calculated by Samsung's damages expert.
Apple also wants either a new trial or amended judgments finding that the iPad and iPad2 design is protected and is infringed by Samsung's Galaxy Tab 10.1, and that a wide range of Samsung phones infringe on Apple patents or trade dress.