Clara's recent office launch in Riyadh brings forth a wealth of growth opportunities, innovation, and collaboration.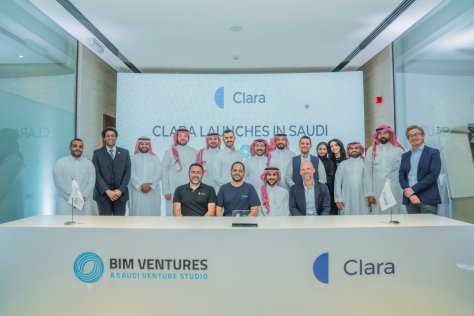 Clara enables start-ups to concentrate on developing their businesses rather than becoming mired in legal paperwork. Clara's category-creating legal operating system digitizes and automates legal tasks for founders, including digital company formations, cap table and data room management and automated legal document generation (covering SAFEs, ESOPs and more), all supported by the platform's predictive education function.
Clara's formal entry into the Middle East's biggest market underlines its commitment to its existing customers and partners in the country. The company launched in 2019 in the UAE and has since expanded its operations to a number of countries including the US and the UK.
"We are incredibly excited to be moving closer to our rapidly expanding Saudi customer base, as well as our blue-chip roster of accelerator, venture builder, and law firm partners in the Kingdom. Clara's digital infrastructure will continue to provide the foundation for the country's innovators to achieve Saudi's Vision 2030 goals."
The announcement also coincides with Clara's appointment of Abdullah Alnashwan as the company's KSA Country Manager.
Commenting on Clara's move into Saudi Arabia, Abdullah Alnashwan noted: "Hundreds of Saudi founders are already using Clara to form, manage and scale their startups. I am thrilled to be joining Clara at this exciting time in the company's development as we formalize our commitment to the Saudi startup ecosystem."
Mr Alnashwan brings deep local market experience to the role, having previously worked and trained in investment roles with Jada Fund of Funds and the Public Investment Fund (PIF), two of the country's leading investors. Mr. Alnashwan studied at Riyadh's King Faisal School, followed by undertaking a BSc in Electrical Engineering at UCLA and executive education at University of California, Berkeley, Haas School of Business.
Under Alnashwan's local management, the company plans to quickly scale up its operations in the country. Clara's Riyadh office launch event was held in collaboration with BIM Ventures, a Saudi Venture Studio which builds successful, sustainable enterprises from the ground up. Clara's launch offers valuable insights into startup industry trends and technology advancements.