Dell EMC has announced the winners of its "Envision the Future" competition – an annual graduation project that is conducted across the Turkey, Middle East and Africa region.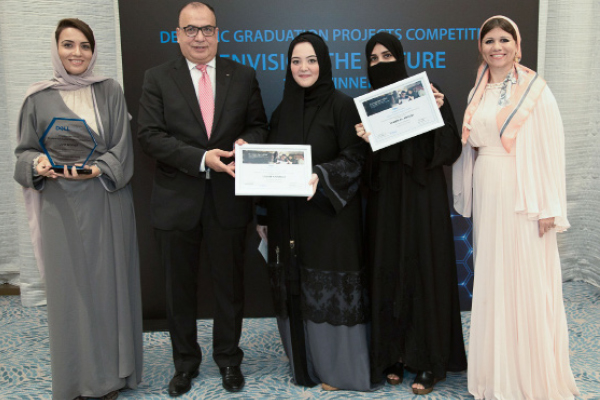 Now in its second year, the competition witnessed participation by more than 883 senior undergraduate students and over 214 project submissions. Envision the Future is sponsored by Dell EMC Centre of Excellence (COE) in Egypt and aims to foster technological innovations among youth in the region.
King Abdulaziz University (KAU) from the Kingdom of Saudi Arabia and Zagazig University from Egypt were amongst winners of a group of 27 finalists from five countries. The team from KAU presented a concept of a wearable prototype device and a mobile application to effectively monitor the safety and health of Hajj pilgrims. Zagazig University addressed the need for an advanced vehicular traffic analytics tool through the use of advanced machine learning algorithms and analytics. This would aim to benefit drivers and the environment by facilitating shorter driving time and fewer car emissions.
Projects received from over 20 universities in 11 countries were assessed by a select panel of judges from around the globe while finalists were judged by two globally distinguished Dell EMC technical experts. The competition also witnessed dramatic growth of over 350% more project submissions over last year. Entries from female applicants were at a majority with 60% of the entries received suggesting a positive trend in the region of increasing interest among young women in technology. 
Mohammed Amin, Senior Vice President, META, Dell EMC said, "Through our 2020 Legacy of Good plan, we constantly look for ways to ensure that our technology and expertise create shared value for people and the planet. Envision the Future is a step towards equipping youth with the knowledge of digital skills for their future and providing them with the opportunity to take ambitious theory to practice. Our vision is to bridge the gap between the technical community and external academia through the Dell EMC programme, and ultimately create a broad ecosystem of innovators to solve the problems of tomorrow and drive digital transformation."
Reflecting on what has been a successful year for Dell EMC at GITEX Technology Week, Mohammed Amin added, "GITEX is the perfect platform to bring us closer to our partners, customers, and numerous other stakeholders. This year we brought to the market the power of our family of strategically aligned businesses to help organisations make digital transformation a reality from edge to core to the cloud. The event has been a great opportunity to demonstrate our broad capabilities to IT decision makers and LOBs, which will enable them to be more competitive, optimise costs and drive innovation. In a market where digital transformation is a priority and is driving disruptive projects, the relevance of Dell Technologies and Dell EMC has never been greater."