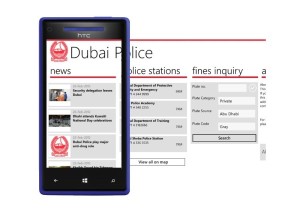 Dubai Police has been announced as the UAE winner of the UN-based World Summit Award, mobile edition (WSA mobile), a global initiative that selects and promotes the world's best in mobile content and innovative applications.
The Dubai Police App was selected amid 480 submissions from over 100 countries.
Unveiling mobile innovation efforts in the mGovernment & Participation category, the Dubai Police App will be honoured In front of UN representatives, ICT ministries and the private sector, at the WSA mobile Global Congress in Abu Dhabi, hosted by the Abu Dhabi Systems & Information Centre (ADSIC) from 1st – 3rd February, 2015.
A total of 156 UAE applications were evaluated from 18th – 20th May at the Centre of Digital Innovation (CoDI).
Colonel Khalid Nasser Al Razouqi, General Director, Smart Services, Dubai Police, said, "We would like to start by expressing our deep pride and gratitude for winning this distinctive award, which is witnessing a high degree of competition between several government entities, throughout the UAE. We want to emphasise that this victory was a result of accepting a serious strategy and adopting a clear course of action, specifically designed for the provision of services on mobile devices."
Each UN Member State was eligible to nominate one product per category for the World Summit Award.
"The TRA is delighted to witness the UAE's most downloaded application, Dubai Police App, be honoured for its innovativeness and efficiency," said H.E. Mohamed Nasser Al Ghanim, Director General of Telecommunications Regulatory Authority. "The success of the app in the mGovernment & Participation category is a pivotal moment for the UAE as it transforms into a fully integrated smart government."