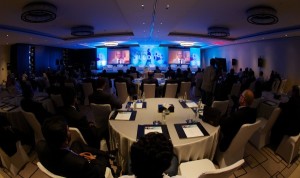 Hitachi Data Systems has announced 'Continuous Cloud Infrastructure', consisting of its Storage Virtualisation Operating System (SVOS), Virtual Storage Platform G1000 (VSP G1000), a new version of the Hitachi Command Suite management platform and enhancements to its Unified Compute Platform converged computing offerings.
Main features include flash optimisation, storage virtualisation, automated tiering, non-disruptive data migration and a new native global active device feature that will provide multi-system and multi-datacentre active capabilities without the need for an appliance.
Customers can natively deploy SVOS on its Virtual Storage Platform (VSP) G1000, and the system can start small and scale block-storage throughput performance of over 3M IOPS, over 48GB/sec of usable bandwidth, and NFS ops/sec performance of over 1.2M in unified configurations.
The VSP G1000 features a virtualisation controller without internal capacity, and a unified storage system with up to 8-node Hitachi NAS Platform (HNAS) clusters.
"Our customers across industries have told us that to keep up with the frenetic pace of business they are aligning the IT and business functions more closely than ever," said Brian Householder, COO, Hitachi Data Systems. "In order to execute in this business defined world, IT teams are looking to new infrastructure strategies to deploy more continuous, adaptable and scalable infrastructure. Businesses need solutions that don't require constant and disruptive changes to the technology they support. And that is what we are delivering today."
The new technologies come to market with integration across virtualisation platforms, databases and a variety of clustering and operating systems platforms.
Collaboration with strategic partners such as Microsoft, SAP and VMware has enabled SVOS and the VSP G1000 to be certified in key initiatives like Microsoft Private Cloud deployments, SAP HANA Tailored Data Center Integration and VMware Software-Defined Data Center technology.