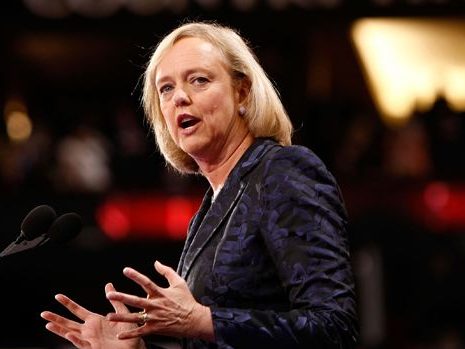 Hewlett Packard Enterprise CEO Meg Whitman has officially stepped down as the chairman of HP Inc's board of directors, effective immediately. The PC and printer manufacturer said that Chip Bergh has been elected to replace Whitman, who had served the board since the separation of HP Inc. and Hewlett Packard Enterprise in November 2015.
"Whitman was instrumental in the formation of HP and in helping us to navigate early life as a separate company, bringing essential experience and continuity of leadership to our entire team," said Dion Weisler, HP president and chief executive officer. "She is a terrific friend and advisor and will remain so as we continue executing on our strategy of reinvention. I look forward to working closely with Bergh as our new chairman as we shepherd HP into the future."
Bergh has served as lead independent director of the HP board since March 2017. He is president and chief executive officer of Levi Strauss & Co., a position he has held since September 2011. Bergh previously worked at Procter and Gamble for 28 years in a variety of executive roles, including managing business in multiple regions worldwide. His last role with P&G was as group president.
"I have deep respect for Meg, Dion and the entire HP board and leadership team and am honoured by this important role as HP accelerates its innovation agenda," said Bergh. "We have a diverse and top-performing board and we are well positioned to continue increasing long-term value for shareholders."
"HP has now been a standalone company for almost two years and I'm proud to have helped get the company off to a great start," said Whitman. "The HP board is among the most diverse in our industry, and the company has established a proven track record of successfully delivering on its commitments. I'm confident in Weisler's continued vision and leadership as well as Bergh's ability to help guide the organisation."
Whitman's announcement of exiting HP's board comes amid speculation that she is shortlisted for Uber's CEO role, reported by Bloomberg Technology recently.
However, the report also included a quote from an HPE spokesperson, Howard Clabo, who said "Whitman is fully committed to HPE", while Uber had declined to comment.
Uber's co-founder Travis Kalanick had resigned as CEO recently following months of controversies.
Other rumoured candidates for Uber's new CEO role includes Sheryl Sandberg, Facebook's COO; Yahoo's ex-CEO Marissa Mayer; Mark Fields, Ford's former CEO; Tom Staggs, Disney's former CEO; John Donahoe, Ebay's ex-CEO and former editor-in-chief and co-founder of The Huffington Post, Arianna Huffington.