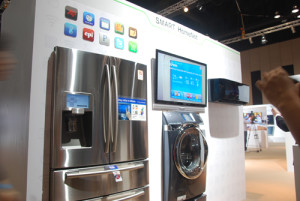 Samsung is making a play for the "connected home" with a new service that will let people control things like their refrigerator, TV and heating system via a single smartphone app.
It announced its Samsung Smart Home project at the International CES 2014 in Las Vegas yesterday and said the service will be rolled out across Samsung products in the first half of this year, starting with TVs, appliances and smartphones.
Samsung isn't the first company to try to build such a service – Microsoft, Cisco and others have tried similar things in the past with little success. But with smartphones now in wide use, and with Samsung being a major manufacturer of home appliances like washing machines and refrigerators, not to mention the smartphones themselves, it may feel it has a better chance.
It's developed a dedicated Smart Home software protocol (SHP) to connect its products and says it will make the protocol available to other device and appliance manufacturers, if they choose to get on board.
The service will let people control home appliances through an app installed on their smartphone or TV. They'll be able to do things like control their home heating system or turn the lights on and off when they're not home, Samsung said.
Turning the lights on and off remotely might be useful when a person is on holiday, for instance, and wants to make it look like there's someone home.
The service will also have a voice activated component. "If the user says 'good night' to their Smart TV remote control, the TV will be turned off and lights dimmed and gradually turned off in readiness for sleep," the company said in its announcement
Home View, another part of the service, will let people check up on their home using appliance cameras. And a customer service component will alert people when their appliances need replacing or servicing – something manufacturers would clearly love.
It remains to be seen whether other appliance makers will get on board with the effort, and Samsung will have to overcome inevitable concerns about privacy and security.
It's one of several ways the company is trying to move beyond device sales and provide services to consumers as well. A former Apple engineer who worked on Siri has been building a cloud service for Samsung called SAMI (Samsung Architecture for Multimodal Interactions) that will collect data from devices like the Fitbit and make it available to other services and apps.
Samsung said it plans to eventually expand the Smart Home service to cover home-energy, secure home access, healthcare, and "eco home applications," through the partnerships with third-party service providers. It didn't provide more details Sunday but it's likely to say a lot more about the service during CES this week.
Originally published on
IDG News Service (San Francisco Bureau)
.
Click here to read the original story.
Reprinted with permission from
IDG.net
. Story copyright 2023 International Data Group. All rights reserved.