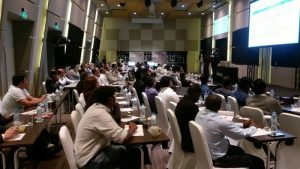 Synology brought together channel partners, resellers and systems integrators at its inaugural Solutions Day held in the UAE recently. The objective of the event was to provide a refreshed overview on the company's solutions for storage, data backup and recovery.
Around 70 attendees comprising channel partners and business end-users along with local distributors from Saudi, Kuwait, Jordan, Lebanon and Iran participated in the Solutions Day.
Nick Jheng, Sales Account Manager, Synology, kicked started the event with information on how the company had evolved over the last few years and explained the features of its latest products.
He said, "The Middle East has immense potential for us as it is still in the early stages of NAS storage. We are a software company more than a hardware manufacturer. Over 80 percent of our workforce are software developers and we are focusing on smart storage solutions. Therefore, our partners and customers alike prefer Synology solutions."
The vendor's portfolio boasts complete data backup and disaster recovery solutions that include endpoint protection and cloud gateways.
The company also unveiled new products at the event such as 3U model RS4017xs+ and the petabyte storage solution RS18017xs+. Synology also showcased the recently launched 5 and 8 bay product NAS products: DS1517+ and DS1817+, which are dedicated for SMBs.