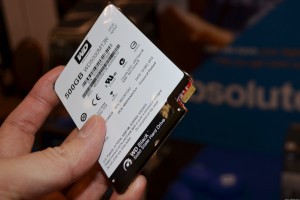 Western Digital has released new information about its first hybrid drive, revealing that it is using NAND flash technology from SanDisk. The drive is now shipping.
WD originally announced the solid-state hybrid drive (SSHD) – the WD Black SSHD – last month along with its thinnest hard disk drive to date, the WD Blue.
Hybrid drives use a small amount of NAND flash memory to accelerate performance in combination with a traditional hard disk drive for added storage.
In the partnership, SanDisk will supply its iSSD NAND flash and WD will offer up its WD Black hard drive to create the SSHD. The drive uses a 6Gbps SATA interface.
The WD Black SSHD will have from 8GB to 24GB of NAND flash memory on board, depending on laptop system manufacturer requirements, a spokesperson said. The 5mm SSHD will offer 500GB of hard disk drive capacity.
SanDisk's stand-alone iSSD is a SATA-based flash drive with up to 128GB capacity and sequential read/write performance of up to 450MB/350MB/sec, respectively. As a result, the WD SSHD should theoretically offer similar performance if the firmware controlling data placement on the drive works as designed.
By comparison, Seagate's 7mm high laptop SSHD, also with 500GB of capacity, has a maximum performance of 600MB/sec. Seagate's SSHD has 8GB of NAND flash from Intel on board. Seagate uses a 5,400rpm spindle speed hard drive. WD said it is not disclosing the spindle speed of its drive at this time.
Unlike Seagate, which uses caching at the drive level through firmware to select the type of data that goes to NAND flash memory, WD uses driver software it said is closer to the OS and the user.
Matt Rutledge, WD's vice president of client solutions, said both drive-based and driver-based caching schemes employ proprietary algorithms to optimise and identify hot data.
"The main difference in execution comes from the fact that caching at the drive level occurs far removed from the OS and the user. Caching at the driver level means that the determination of what is hot versus cold is coming from the OS and, thus, much closer to the user," he said in an email response to Computerworld
The advantage to drive level caching, Rutledge continued, is that installation and use is simple since the drive is a stand-alone unit. By contrast, a driver-based solution must be compatible with the system and all the variables that brings.
"This is why WD is focused on [system manufacture] integrated hybrid drives," Rutledge added.
WD said its collaboration with SanDisk resulted in the world's thinnest SSHD, at only 5mm.
The smaller form factor utilised almost 50 percent less volume than some standard notebook hard drives; today's notebook drives come in 7mm and 9.5mm heights, WD said.
The WD SSHD uses SanDisk's most dense NAND flash, which is built with 19 nanometer (nm) process technology.
The WD Black 5mm SSHDs are currently shipping to OEMs. WD is also currently shipping to OEMs 7mm and 9.5mm versions of its SSHD for portable devices.