In this month's cover story, CNME Editor Mark Forker spoke to Ahmed Helmy, International CTO at Avaya, to find out how the company is continuing to expand its cloud transformation by introducing Avaya IX-CC, the IT company's next-generation Contact Centre as a Service platform.
Helmy has played to continue differentiating a key role in curating Avaya's strategic cloud transformation which has helped solidify the US-headquartered multinational as a market leader in unified communications and contact centre services.
In our interview, Avaya's International CTO details how a shift in customer and market demands ultimately led to the creation of the Avaya IX-CC platform, which promises to markedly change organisations' ability to create multi- experiences by helping them adapt their technology to their ever-changing needs.
Indeed, this comes as the conversation around the contact centre space shifts, with businesses looking at customer experience – across any platform – as a key differentiator and business driver.
"With the largest customer base globally in the contact centre, what our customers tell us reflects the needs of the market. There is a clear shift in what our customers need to continue differentiating themselves with compelling experiences for the digital age. What businesses need today is the freedom to build multi-experiences with ease and speed that capture the hearts and minds of their customers. The conversation with vendors like us has shifted from IT to business transformation."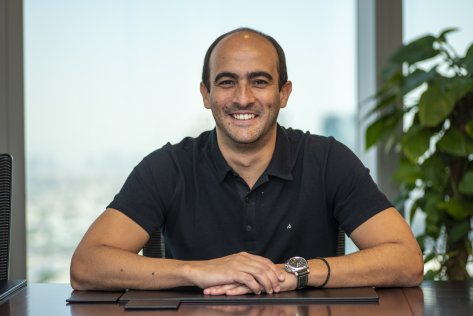 According to Helmy, a combination of customers wanting to evaluate their CX strategy, whilst spending less talking about infrastructure led to the accelerated development of the IX-CC.
"The consensus amongst everyone in the customer experience space was to reduce the time we spent talking about infrastructure, computing and project management. These topics were consuming 60 percent of the discussion, but there was a growing desire to focus more on business transformation. Customers want to review their CX strategy over the next 1-5 years, and while many have an idea of what direction they want to go, other customers don't. Those customers need to introduce new technologies to see how it's going to impact their business," said Helmy.
Avaya's dynamic and innovative CTO said that the company's approach has transitioned from simply trying to sell new technology, into building customer journey roadmaps and CX transformation services with their customers.
"If you look at the CCaaS vendors today, their focus is on moving their customers from on-premise to the cloud. For us here at Avaya, with Avaya IX- CC, we're giving our customers control over of their business outcomes with the freedom to personalise their customer experiences the way they want," said Helmy.
A recurring theme during our conversation is 'flexibility', and Avaya's IX-CC platform certainly ticks that box – the autonomy provided is what is helping this product really resonate with customers in the cloud market.
"Our customers like our cloud consumption models, the economy of the cloud, the flexibility and the minimal upfront investment required so they can benefit instantly from the freedom to innovate and transform. However, at the same time we're not holding them back like some of our other competitors who force businesses to fit into pre-defined packages and bundles," said Helmy.
Avaya's ability to become more 'adaptive' has also struck a chord with customers, which Helmy claims is what they really want.
"We're becoming more adaptive, which is fundamentally at the core of what our customers really want. The key component of IX-CC is not only the fact that it is multi-tenant, scalable and cost-effective, but that it's very, very adaptive. What this means is that our customers own the whole platform and have the full flexibility to customise, integrate and personalise – versus the option of having to fit their business into a specific bundle," said Helmy.
Avaya's CTO also highlighted how many companies were guilty of rushing their transformation to the cloud when it was still a trend – and in their quickfire approach to creating a CCaaS platform, had overlooked flexibility, personalisation and adaptability.
Helmy explains, "One set of CCaaS vendors have created solutions that come with a good level of APIs and interfaces – but are extremely poor in features and are forcing customers to own feature-development themselves. The other set has created CCaaS offers that have an acceptable library of features, but restricted their customers in their ability to customise, personalise and integrate their customer experience. Avaya IX-CC brings the best of the two together."
Helmy said Avaya had an advantage when it came to the creation of the IX-CC platform, as they had developed very rich features over a 20 year period that was embedded into their contact centre capabilities. However, they wanted to create a market where customers could come in and use very rich API interfaces, but instead of investing significantly in DevOps and R&D teams to build the basic features, they could instead build on top of Avaya.
"With Avaya IX-CC, our customers maintain the rich capabilities, but have the flexible development interfaces, customisation and integration, allowing them to innovate on top of that. You'll only be able to personalise your customer experience when
you have enough insight into data, customer behaviours and interactions to be able to change quickly to adapt to what your customers need – this frees you from being at the mercy of packages and bundles, and directs your efforts towards positive outcomes to your business," said Helmy.
Helmy also declared that another key feature of the IX-CC platform is that it is a pure SaaS model, that gives customers
the option to plug-in to new capabilities from IX-CC through a hybrid model, which means customers don't have to migrate fully to the cloud.
Avaya has also announced that their IX-CC platform will be available in Azure, which will be hosted in Microsoft's data centres in Abu Dhabi and Dubai. The service will be introduced initially in the Arab Gulf region with plans to expand the offer to other global regions in the future.
"We're launching the IX-CC platform in the MEA region in the first half of this year and will also launch the service in the US in September. In 2021, we will roll-out the IX-CC platform to the rest of the world," said Helmy.
According to Helmy, the strategic alliance with Microsoft Azure was born out of the company's desire to choose a platform that provided minimal friction.
"Avaya has a number of strategic agreements with leading vendors like Google, IBM and others. Each alliance and partnership brings an added value to our solutions and our customers. We have recently launched a unique compelling solution for RingCentral. But for our CCaaS solution, we chose to work with Microsoft Azure as it provided a platform with minimal friction and maximum footprint," said Helmy.
Microsoft's presence globally and the fact that it has already formed relationships with enterprise customers through their Office 365 offering made it a no-brainer for Avaya to enter into a collaboration agreement with the US IT behemoth.
"The partnership with Microsoft also simplifies and ensures compliance from the get-go. For example, businesses who are on Office 365 have done the security due diligence. For them, coming onto IX-CC on Azure is simple and seamless. This also means that we can accelerate our go-to-market strategy," said Helmy.
Avaya's CTO concluded our conversation by stressing that the partnership between Avaya and Microsoft Azure has resonated with customers in both the US and the Middle East, who are leading in their transformation initiatives and see IX-CC platform as the perfect fit for their cloud strategy.
"The value of this partnership cannot be understated. With IX-CC on Azure, we're enabling customers to take advantage of a seamless path to enterprise-grade cloud – and all of the business benefits that come with that. This creates an incredible opportunity for everyone in the space to quickly transform as quickly as the market demands, providing ever-better experiences."
If you want to find out more, Avaya would love to hear from you. Please get in touch:
Iman Ghorayeb, Director of Marketing & Communications, Avaya, ighorayeb@avaya.com
Ahmed Helmy, CTO, Avaya, afhelmy@avaya.com