du, from Emirates Integrated Telecommunications Company (EITC), will build the first Blockchain Platform as a Service in UAE (BPaaS) in partnership with ConsenSys, to build decentralized applications and offer an integrated set of solutions for the Ethereum blockchain ecosystem.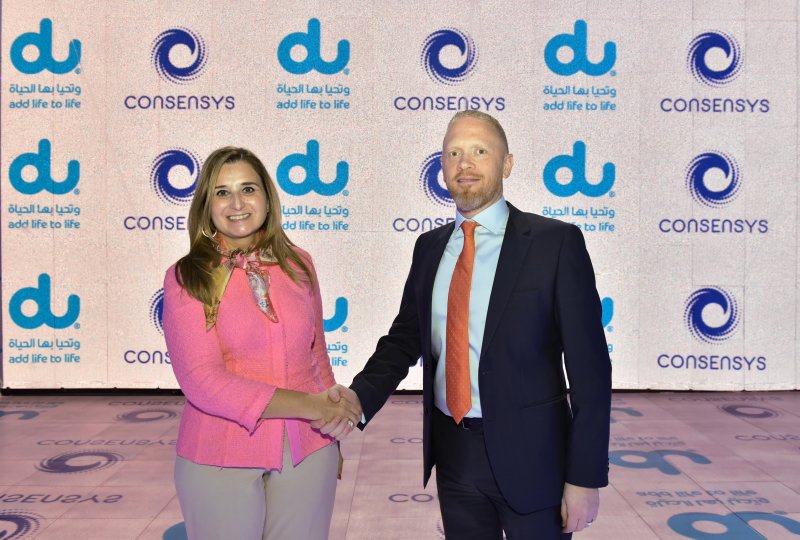 Blockchain Platform as a Service (BPaaS) is a cloud native blockchain infrastructure that can provision private blockchain networks with a high level of customization, support multiple consensus algorithms with monitoring, managing capabilities and smart contract capabilities on the Ethereum blockchain, and will support multiple blockchain frameworks in the near future.
BPaaS represents the outcome of du's initiative to meet and support the UAE blockchain strategy that was launched in April 2018, by Sheikh Mohammed Bin Rashid Al Maktoum, Vice-President and Prime Minister of the UAE and Ruler of Dubai. The strategy aims to capitalize on the blockchain technology to transform government transactions into the blockchain platform by 2021. BPaaS offers a shared environment for du clients to host their blockchain-based POCs and production systems. This includes shared infrastructure and document management, which will adopt and facilitate the current process of any organization by making it more secure, easy and immutable on blockchain. BPaaS offers companies massive scalability, compatibility and better software with low-cost access to the technology.
"In conjunction with ConsenSys, du will play a leading role in leveraging emerging technology to contribute to business growth and the realisation of the Dubai Blockchain Strategy. As a founding member of the Global Blockchain Council, du has been active in expanding the implementation of blockchain technology to improve the everyday life of the citizens of Dubai and this prestigious partnership further acknowledges the Government of Dubai's pioneering Blockchain initiatives," said Jihad TarayaVice President Business Development and Partnerships- New Business & Innovation, du.
Blockchain Platform as a Service (BPaaS) offers an easy way to explore new technology and how it can be used to help businesses access and develop blockchain-based applications. They can then focus on the business use case itself as it plays across all the industries including government, financial services, insurance, supply chain, healthcare, education, and transportation to name a few.
"We are proud to be a partner of du in this milestone achievement. Du has been at the forefront of blockchain adoption and by leveraging the scale and agility offered by our BPaaS solution, we will further accelerate blockchain adoption at both a private and government level," said Lina Hediah, Executive Director, Middle East and North Africa, ConsenSys. "We are excited to be playing such an integral role as we enter this exciting phase," she added.