With a mission of delivering high value security offerings, Gulf IT Distribution is committed to its "partner-focused and customer-centric" strategy. The team at the UAE-based VAD – Feras Al Hakim, channel manager; Aneez Abbas, channel sales manager – UAE; and Loai Ahmad Mahmoud Jamous, country manager – Saudi Arabia – sat down with Security Advisor ME to discuss how they are primed to address the growing security demands in the region.
Can you please give a brief overview of your operations here in the region?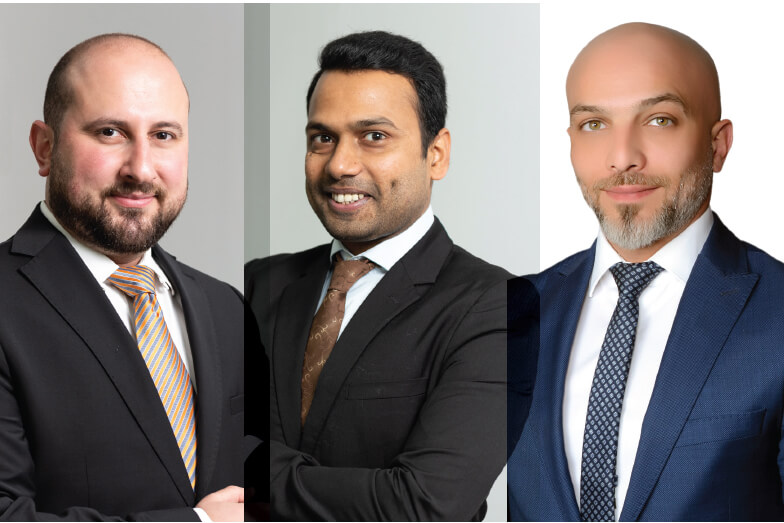 Headquartered in the UAE, Gulf IT has been operating in the Middle East since 2011. We run a truly channel-driven business ensuring that we provide our partners with the right solutions and expertise to support their customers. We have a robust cybersecurity portfolio that matches the growing demands in of the digital era as well as deep technical expertise that exceeds our partners' and their customers' expectations.
What have been the highlights at the company over the last year?
We have experienced significant growth in our business in 2018, which saw our turnover increase by more than 50 percent as compared to the previous year. We have also successfully established new partnerships with a number of well-known global cybersecurity vendors.
Gulf IT has always been committed to transforming from being a point solutions provider to an integrated cybersecurity distributor. This is what we have been focusing on over the past couple of years, that's why we actively seek to forge relationships with the leading names in every aspect of the security space. With regional offices situated in major hubs such as Qatar, Saudi Arabia and, of course, here in the UAE, we aim to continue to build on this commitment.
What key security technologies are you focusing on?
Gulf IT has traditionally been focused on delivering solutions in areas such as application and data security. In addition, we are also strengthening our capabilities in terms of securing digital identities as well as identity governance and privilege accounts management (PAM). We have partnered with vendors such as Sailpoint, NNT, BeyondTrust as we believe that their offerings in these areas will allow us to deliver the right solutions that regional firms demand.
What is Gulf IT's go-to-market strategy?
Gulf IT has always been partner-focused and customer-centric. We have invested heavily into a bigger scope of digital marketing and data-driven insights to enhance customer experience. This year, we aim to co-host several roadshows and participate in trade events to spread awareness on the latest cybersecurity trends and inform them how we can help them in securing their digital journey. In addition, we have set up a Live Security Centre at our head office in Dubai to demonstrate the technologies we offer and give customers a first-hand experience.
As a distributor how are you helping enable regional organisations to become cyber resilient?
As an intelligent cybersecurity partner, we believe in having a holistic approach. Cybersecurity doesn't have to impede your strategic business goals. In fact, securing one's organisation is a continuous process and the need to be one step ahead of the threats is vital to the success of any digital journey. Our consultative approach and attention to detail enable us to better understand and address customers' specific security requirements.
Which technology do you believe will have the biggest impact on the security space this year?
Artificial intelligence and Internet of Things are among the biggest trends that will impact the industry and we are eyeing these areas very closely.
Moreover, this year, we believe technologies around securing digital identities, automation and compliance will be on top of every organisation's agenda. They will be the need of the hour for organisations that are looking to transform their businesses. What we have learnt is that many organizations protect information by securing their networks, endpoints, infrastructure and their application. However, according to Verizon DBIR report, a majority (80 percent) of cyber incidents last year were caused by of hacking-related breaches such as either stolen credentials or weak credentials. Therefore, the emphasis needs to be on identity governance and this will be our focus for 2019. Our vendor partners Sailpoint and BeyondTrust share the same belief
What are your objectives for 2019?
For 2019, we have put together a unique and well-tailored cybersecurity portfolio to enable our clients to outsmart hackers and get robust protection from multiple cyber threats.
Our experience working with large enterprises across the region has aided in our rapid growth. Many of the largest banks and government organizations rely on our expertise across multiple security platforms. Our customers and the partners in the region will see us working proactively to provide solutions across security and compliance. Furthermore, our professional services team is committed to responding rapidly to ever-changing needs of the market. Gulf IT believes in organic growth as this has given us the time to focus on our key capabilities and explore other domains in cybersecurity.