CNME Editor Mark Forker managed to secure an exclusive interview with Bahaa Eddine Al Indary, VP – Sales & Acting General Manager at Raqmiyat, in an effort to find out how the IT leader is helping the banking industry embrace digital transformation.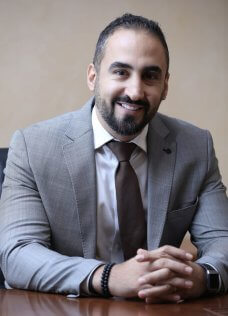 Al Indary has enjoyed a decorated career in the IT industry – and is regarded as one of the most prominent technology thought leaders in the UAE. Since joining Raqmiyat in 2013, he has helped the company maintain its status as one of the region's leading systems integrators.
In a wide-ranging interview, the charismatic executive outlined how Raqmiyat is playing a key role in driving digitalization across the banking sector in order to ultimately empower businesses with the ability to do more.
Raqmiyat was established in 1983 and has a huge presence all across the Middle East, particularly in the UAE and Saudi Arabia.
Raqmiyat carved out a niche for itself initially when it started operations by providing systems for the banking industry, and currently has over 40 banks as customers in the UAE. However, as Al Indary pointed out, the IT leader knew as technology continued to evolve, so did their product offering.
"We identified about 3-4 years ago that we needed to come up with a new offering for the banks that was designed to serve the industry in a better way. We're now starting to see the results of that initiative pay dividends, in terms of assigning vendors and we've also managed to secure a number of consultants from this industry to help us accelerate our projects and implementations, especially when it comes to the banks," said Al Indary.
The acting General Manager of Raqmiyat said that a growing trend amongst banks was an attempt to shorten their strategy cycles, as previously they would've developed strategies that would typically last 1 or 2 years, but nowadays this cycle has been reduced to months.
"The banking industry is looking to have a lean and agile model in order to be able to respond to the evolving market conditions that we're now seeing. We have introduced a lot of robotic process automation, and it is playing a very important role in our new service offering. Our legacy systems were built in 1990, so now the major banks are asking us how can we automate these processes? We've partnered with RPA leaders such as Automation Anywhere to provide the services and consultation required in order to successfully automate our own systems. When it comes to the IT operations itself, we're also providing a lot of automation services in this domain too," said Al Indary.
In addition to this, the dynamic IT professional said that in the next 2-3 years, banks will be looking to upgrade the existing legacy architecture.
"There is a strong desire from the banks to abandon upgrade & optimize their legacy systems or migrate to new technologies as a sort of Application modernization, but this is why we took major steps to upgrade our own systems, so we could integrate new technologies onto them. That's why we've partnered up with major technology companies to provide the platform to develop any application, or system irrespective of the technology, and be in a position to be able to facilitate new upgrades and versions that are coming down the track in a seamless fashion," said Al Indary.
Al Indary stated that the traditional way that banks did business has been completely overhauled, and they've now been forced to rethink their business model in order to meet the demands of their customers.
"Banks need to meet customer expectations, it's as simple as that, and they can no longer package certain offers and give it to their customers. They're looking beyond that in this new digital era. The customer is driving the bank to behave in a different way. Banks need to change their IT operating model, and simplify their legacy systems, but simplifying those systems are complex and won't be an easy task without adopting AI and Robotics, plus you then need to build use-cases around these technologies to show value," said Al Indary.
Raqmiyat is helping banks to really drive digital transformation in terms of how they develop their strategic roadmap, and Al Indary said that the main objective for the banking sector is to hold on to their customers by enhance its customer services.
"Digital transformation starts from the top down and banks are developing digital transformation roadmaps designed to ultimately enhance their ability to provide operational efficiency and customer experiences. In the current climate it's all about how you can improve your customer experience," said Al Indary.
In addition to this, the Raqmiyat executive said that they could see that banks immediately wanted to update their IT operating model to get ready for what has been described as the 'new normal'.
"They need to prepare their architecture to connect to anything anywhere and accelerate performance in a secure fashion. This will result in banks partnering with system integrators like Raqmiyat to accelerate the digital interaction to greater speed revenue generation, effective operations and better customer experience," concluded Al Indary.