The seventh edition of the prestigious Network World Middle East Awards was held last night at the Jumeirah Emirates Towers, Dubai. Gathering over 350 guests, the event which was organised and hosted by CNME honoured the best and brightest networking talent in the region.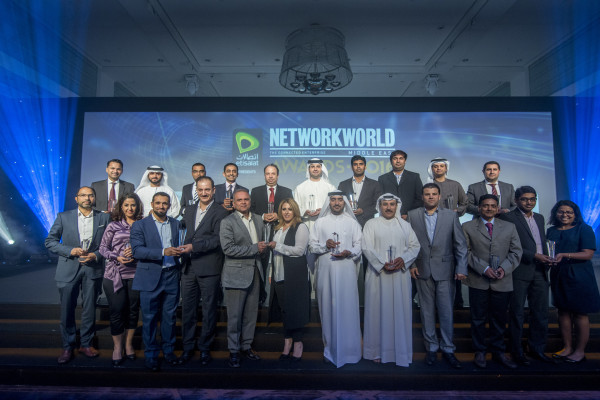 For seven years, Network World ME has established itself as one of the region's most acclaimed gathering for enterprise IT leaders. Open to users and vendors alike, awards programme celebrated and recognised top IT and business professionals who have shown great prowess in leading innovations on all sides of the industry.
The evening kicked-off with a warm welcome from CPI Media Group's Technology and Finance Division Publishing Director Rajashree Rammohan. During which, she also paid a heartfelt tribute to the late Founder of CPI Dominic Desousa who passed away last year.
Jeevan Thankappan, Group Editor, Technology and Finance Division, CPI Media Group, and James Dartnell, Editor, Computer News ME, also gave speeches highlighting Network World ME Awards' journey to becoming one of the most esteemed programmes in the industry.
As the event's Platinum Partner, Dell's Enterprise Product Manager Shams Hasan gave a keynote speech recognising how much the Middle East's enterprise networking space has transformed over the years.
Hasan also recalled CNME's CIO 100 Awards that took place in January and introduced the CIO 100 book which was launched recently.
Before naming the winners of the evening, Rammohan and Thankappan first presented tokens of appreciation to the panel of judges which include Madhav Rao, CIO, Lulu Group International; Sebastian Samuel, CIO, AWRostamani; Sreedhar Reddy, IT Director, Aldar Properties; and Paul Black, Director, Telecoms and Media, IDC, Middle East, Africa and Turkey.
The winners named last night are as follows (in no particular order):
Vendor categories:
Networking Vendor of the Year: Dell
Networking VAD of the Year: Mindware
Data Centre Networking Vendor of the Year: Huawei
Wireless Vendor of the Year: Aruba, a HPE Company
Network Security Vendor of the Year: Fortinet
Enterprise Collaboration Vendor of the Year: Avaya
Network Management Vendor of the Year: ManageEngine
Network Optimisation Vendor of the Year: Riverbed
Network Cabling Vendor of the Year: Nexans
Best Return on Investment Award: TransSys Solutions
Best Communications Solutions Vendor: Alcatel-Lucent Enterprise
End user categories:
Data Centre Project of the Year: ADMA OPCO
Virtualisation Project of the Year: Dubai Smart Government
Enterprise Mobility Project of the Year: Al Safeer Group
Enterprise Collaboration Project of the Year: African Eastern
Network Security Project of the Year: General Civil Aviation Authority
Network Optimisation Project of the Year: Nakheel
Storage Project of the Year: Gulf Air
Network Cabling Project of the Year: RTA
Public Sector Networking Project of the Year: Dubai Financial Market
Private Sector Networking Project of the Year: Marsa Malaz Kempinski, Doha
Editor's Choice: Department of Transport, Abu Dhabi
To view the photo coverage of the event please visit our Facebook page – facebook.com/computernewsme