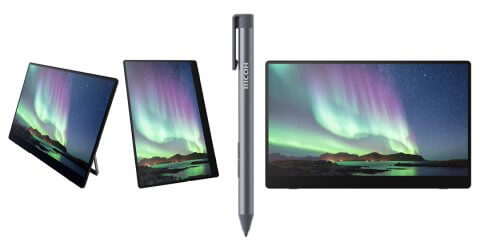 PFU (EMEA) Limited – A RICOH company, has recently announced the launch of a new Smart Meeting Device category.
Launched in EMEA exclusively through PFU and designed with the hybrid working world of today in mind, the new suite of products, will comprise audio visual devices that will improve collaboration quality and enhance meeting productivity for anyone from individuals to large organisations.
The launch comes at a pivotal time for the workplace where hybrid meetings have become part of day-to-day business – Gartner predicts that by the end of 2023, 39% of global knowledge workers will work hybrid. The launch of the Ricoh Smart Meeting Device category will offer products that not only align with today's now-familiar collaboration software, but also make meetings more immersive, engaging and collaborative. The first products to launch in this specialist category are the Ricoh Portable Monitors with more new products to arrive later in the year.
The Ricoh Smart Meeting Device Category will also provide channel with an additional market opportunity. Resellers will be able to package and cross-sell the products from one vendor and have conversations not only about product specifications but about the value they can deliver across an organisation, supporting strategic goals.
"Hybrid working has changed how we meet for good. Businesses need flexible, scalable options for running engaging and productive meetings. They require smarter technology – and our new Ricoh Smart Meeting Device category will bring significant benefits to businesses all over the world, and all from the same trusted brand. With our new product suite presentations can be more visually impactful, and meetings more immersive, bringing an in-person energy to hybrid environments", comments Hiroaki Kashiwagi, President, and CEO of PFU (EMEA) Limited.
The Ricoh Portable Monitors are the first products to launch within the Ricoh Smart Device category. Available now via Amazon and www.PFUEMEA.com, and through specialist local channel partners such as Saudisoft and EMPA. The ultra-lightweight portable monitor is currently the lightest* on the market, featuring OLED quality, 15.6" touch screen display in both wired and fully wireless options. An optional stylus pen that enables the user to directly write, draw and annotate content for fast, efficient communication is also available.
The monitors will also be on display at ICA (Stands D18/19 or D23) and GITEX GLOBAL (Concourse two, stand number CC2-17).  Visitors will have the chance to experience the devices first hand and learn more about PFU's offerings.
* Weight comparison of 15.6″ OLED touch screen models as of February 2023, based on Ricoh research.
For more information on the Ricoh Smart Device Category, visit https://www.pfu-emea.ricoh.com/en-gb/hardware/meeting-devices/
RICOH Portable Monitor 150 is priced at AED 2,374.00  excl. VAT
RICOH Portable Monitor 150W is priced at AED 3,200.00 excl. VAT
RICOH Monitor Stylus Pen Type 1 is priced at AED 331.00 excl. VAT