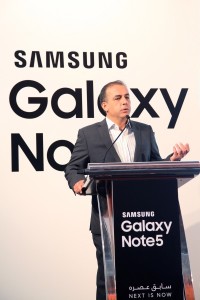 Samsung Electronics has unveiled the fifth generation of the Galaxy Note and the Galaxy S6 edge+ in the GCC. Sporting a better designed S Pen and next-level wireless charging technology, the Galaxy Note5 is set to raise productivity to new heights, while the Galaxy S6 edge+ delivers a comprehensive multimedia experience, according to the company.
Equipped with a 5.7-inch screen, the Galaxy Note5 is the latest addition to a category that Samsung pioneered in 2011 with the original Galaxy Note—the large-screen phone or phablet category. On the new Note, the large Quad HD Super AMOLED screen is the window to a set of productivity tools such as 'SideSync,' along with much refined S Pen capabilities to better serve the major multitasker.
A unique clicking mechanism allows users to pop the S Pen out with just one quick click. Users can now quickly jot down ideas or information when the screen is off without even unlocking the phone and this feature is known as Black Screen Memo. The 'Air Command' feature gets more intuitive and practical as well; now the icon hovers for instant access to all of S Pen tools from any screen at any time. Users can even annotate on PDF files and capture lengthy web articles or long images at once via 'Scroll Capture.'
"When we designed the first Galaxy Note four years ago, we gave portability and productivity to the consumer, and redefined the mobile industry in the process. By making the display larger and redesigning the stylus, we got rid of some hard-worn crutches of the mobile industry, and developed a device that actively addressed some major pain points for consumers," said Hayssam Yassine, Head of the IM Division, Samsung Gulf Electronics. "With the new Galaxy Note5 and the Galaxy S6 edge+, we continue that approach of matching our innovations to the needs of real consumers."
Both the Galaxy S6 edge+ and Galaxy Note5 blend form and function with a number of enhanced features. With increased 4GB RAM, both smartphones offer the most powerful capacity and processing power on the market, enabling users to enjoy more seamless multi-tasking, keep up with messages, post updates to social networks faster, and enjoy graphic-heavy games without suffering lag time.
Galaxy S6 edge+ was developed from the same distinctive design of Galaxy S6 edge. It features the new 'Apps edge' for easy access to favorite apps, and enhanced 'People edge' for easy communications with preferred contacts. 'Apps edge' allows users to access their favorite apps by just swiping the edge display. 'People edge' helps users to connect their close contacts easily. From the edge screen, users can quickly find their pre-set contacts and send message or give a call directly.
Both the Galaxy S6 edge+ and Note5 feature unprecedented multimedia capabilities with deeper screen contrast and details owing to Samsung's industry-leading 5.7-inch Quad HD Super AMOLED display.
The company is also enabling consumers to share the moments of their lives through photos and video with improved video capabilities. These include 'Steady Video,' which provides 'Video Digital Image Stabilization' on both the front and rear cameras for sharp, crisp video on-the-go, and 'Video Collage Mode,' which allows users to record and edit short videos easily in various frames and effects. The Galaxy Note5 and the Galaxy S6 edge+ also feature 4K Video filming and Live Broadcast, which let users instantly live-stream Full HD video straight from their phone to any individual, group of contacts, or even the public through YouTube Live. Anyone who receives the YouTube link from a Note5 or Galaxy S6 edge+ user is able to enjoy live stream video from his or her smartphone, tablet, PC or Smart TV with YouTube connectivity.
Galaxy Note5 and Galaxy S6 edge+ users will also benefit from Samsung's advanced camera system, including 'Quick Launch' (double click the home button to launch the camera within 0.6 seconds), 'Auto Real-time High Dynamic Range (HDR),' and 'Smart Optical Image Stabilisation(OIS)' and brand-new filters.
The Galaxy Note5 and Galaxy S6 edge+ feature Samsung's fast wired and wireless charging technology. The embedded wireless charging technology is compatible with virtually any wireless pad available today. With wired charging, both devices can be fully charged in approximately 90 minutes, and through the company's latest wireless charger, they can be fully charged in approximately 120 minutes.
The Galaxy Note5 and Galaxy S6 edge+ will be available at all major retailers in the UAE from August 28, 2015. Both devices will come in White Pearl, Black Sapphire, Gold Platinum and Silver Titanium.
The Galaxy Note5 32GB and the Galaxy S6 edge+ 32GB will retail at AED 2,799 and AED 3,099, respectively, and the Galaxy S6 edge+ 64GB version will retail at AED 3,399.