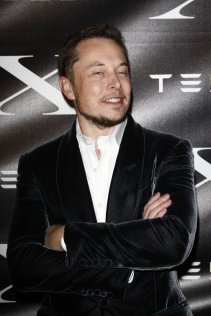 Trading in Tesla shares in Germany on Monday pointed to a five percent drop when US markets open, Reuters reported.
According to the report, the shares decline is the investors' reaction Chief Executive Elon Musk's decision to abandon plans to take the luxury electric car maker private.
Musk said in a blog post late on Friday that consultations done with the help of Goldman Sachs and Morgan Stanley had shown most of Tesla's existing shareholders opposed the deal he proposed on Twitter three weeks ago to widespread shock on Wall Street.
Tesla's shares, already down nearly 10 percent from their level on 7th August, just before Musk tweeted that he had "funding secured" for a buyout at $420 a share, fell 5 percent in trading in Germany to $263.50.
Investors in Tesla's bonds and convertible debt had also shown skepticism that the tens of billions of dollars needed for the buyout would materialize after the Aug. 7 tweet and a subsequent blog post in which Musk made the case for going private.
With the Silicon Valley billionaire's proposal for a buyout backed by Saudi Arabia's sovereign wealth fund off the table, investors will focus on Tesla's efforts to become profitable, the company's cash reserves and what steps Musk could take to raise fresh capital.
Musk and Tesla also face a series of investor lawsuits and the threat of a US Securities and Exchange Commission investigation into the factual accuracy of Musk's tweet that funding for the buyout deal was "secured".
Tesla had $2.78 billion in cash at the end of the second quarter, after a record $718 million loss.
In early August, before the buyout plan was made public, Tesla reiterated a forecast that it would achieve a profit in the third and fourth quarters, under normal accounting rules, and Musk said the company would not need to raise more cash.
A Tesla spokesman on Sunday referred to those previous comments.
One of Tesla's biggest challenges is ramping up production of its latest vehicle, the Model 3, which is critical to its profitability goals.