Smart Dubai has signed a Memorandum of Understanding (MoU) with IBM with the aim of setting up a Data Science Lab and collaborating on organising the Chief Data Officer (CDO) Summit in Dubai in 2019.
The MoU was signed at the UN World Data Forum 2018 in Dubai. Smart Dubai has set plans to launch a Data Science Lab, which seeks to develop data science skills in Dubai and foster collaboration among the data science community in the emirate to identify and explore opportunities that will boost the creation of a data ecosystem. In terms of the MoU, IBM will provide skills and expertise on data science, artificial intelligence (AI) and data analytics.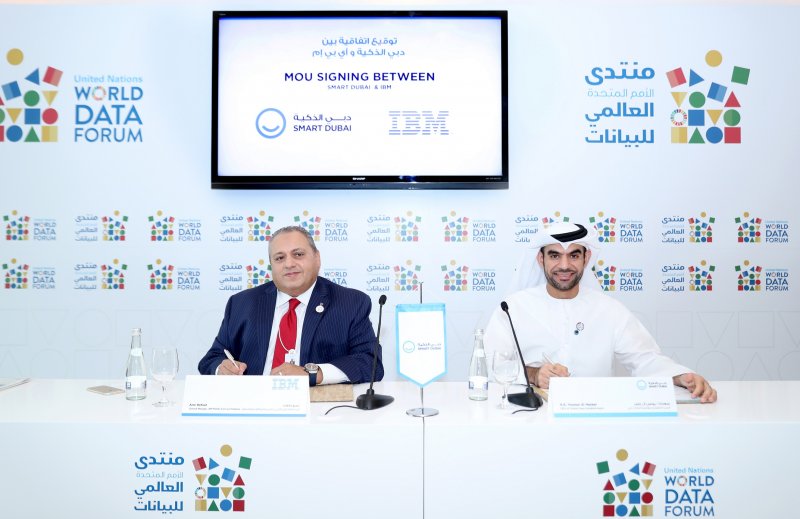 Smart Dubai also aims to collaborate with IBM to look into organising a Chief Data Officer Summit. The Summit will aim to bring together thought leaders and decision makers in the data science sector from the region and underline the importance of CDO Leadership.
"The Emirate of Dubai has undergone a sweeping and rapid shift towards advanced technologies, embracing them in its plans to become a world-leading smart city," said Younus Al Nasser, Assistant Director General of Smart Dubai, CEO of the Dubai Data Establishment. "Hosting the UN World Data Forum in Dubai reflects the emirate's – and the UAE's – prominent status in the digital sector."
The MoU outlines a set of roles and contributions Smart Dubai will be providing, namely: provide a physical location for the Data Science Lab; host a quarterly Data Science Think Tank event; communicate with government entities; promote training and engagement with government entities to enable data science projects; conduct one Data Science Hackathon; and manage an internship programme in the Data Science Lab for UAE nationals.
"As the Government entity entrusted with driving that transformation, Smart Dubai has sought to harness the power of data – also known as the 'Oil of the Future' – as a key component of the smart city of the future," Al Nasser added. "With the signing of today's agreement with technology pioneers IBM, Smart Dubai can confidently move forward with our plans to establish a dedicated Data Science Lab to allow us and all of our partners to harness the latest technological developments and explore data's potential to improve people's lives and secure Dubai's future."
In terms of the agreement, IBM aims to support the Data Science Lab to carry out pilot projects and assess feasibility; share the latest advancements in data science; provide data science training; facilitate design thinking workshops; and help Smart Dubai organise and manage the Chief Data Officer Summit.
"At IBM, we believe that enterprises – and the professionals who serve them – will succeed or fail because of data," said Amr Refaat, General Manager, IBM Middle East and Pakistan. "Despite the seemingly growing adoption of analytics and machine learning, some organisations are still not able to realise value from their data work. This is where data science serves its purpose in mining this data and deriving insights from it, enabling organisations to make strategic decisions."