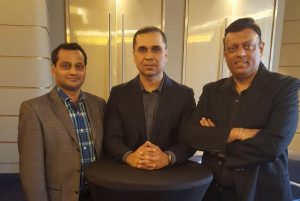 Dubai Computer Group (DCG) is organising a mega event, DCG Desert Safari Retreat, to build team spirit among the association's members on 24th November, 2017. The event is expected to gather 600 plus workforce from the industry for fun-filled dune bashing and related experiences.
Dharmendra Sawlani, president, DCG said, "This is the first of its kind and the biggest event organised by DCG till date. One of DCG's key aims is to promote team building and a sense of community among the IT traders and their staff. This event will strengthen the ties between the staff of the member companies and encourage support which these businesses can provide to each other. The event will also foster collaboration among the members to ultimately promote long-term business development especially in a challenging business environment."
Suchit Kumar, general secretary, DCG, said, "It was important for us to pep up the morale of the industry's workforce and to also facilitate bonding between the team. The Desert Safari Retreat will bring the best of interactive experiences and a wider bandwidth of business friendship and bonding."
With Toshiba on board as the Gold Sponsor, the event also boasts prominent partners such as AOC, ASBIS, Canon, D-Link, Western Digital, Xcel Host and XFX as Silver Sponsors. Reseller Middle East is the event's supporting partner.
Ashok Kumar, vice president, DCG, said, "We are excited to host an event of this scale and would like to thank all the sponsors for extending their support to make this event a reality."
DCG also hosts IT symposiums and conferences regularly to promote unity and accelerate the channel businesses within the region. The association also helps to control reseller runaway incidents by emphasising on knowledge sharing and organising awareness events. The group expects to have many similar kinds of events in the coming year as well.