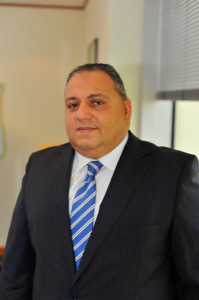 When the first quarter saw IBM miss earnings expectations for the first time in eight years, questions were raised not just on Big Blue, but the state of the IT industry as a whole. In an exclusive interview with CNME, Amr Refaat, GM, IBM Middle East, says that, whilst emerging markets were partly attributed for the dip, the Gulf has nothing to worry about. 
Results of a disappointing quarter for a technology company are not exactly cause for much surprise these days.
However, IBM is a slightly different case. Steady quarterly earnings calls are as consistent as the blue in its logo. Until April this year, that is, when the company missed quarterly earnings expectations for the first time in eight years.
Following 10 quarters of double-digit growth, IBM only grew by single digits. Before you knew it, CFO Mark Loughridge was talking of "workforce rebalancing actions". In other words, job cuts.
IBM has not said how many jobs it will cut, but Loughridge did say that most would take place in the second quarter.
"Given our first quarter performance," he said following the earnings call in April, "we now expect to take the bulk of our workforce rebalancing actions for the year in the second quarter, as opposed to last year when it was distributed across the quarters.
"Now, remember last year we had about $800 million in workforce rebalancing charges spread across the year. This year, we expect the workforce rebalancing charges to be closer to $1 billion and concentrated in the second quarter."
It is believed that $1 billion figure will amount to cuts of around 6,000 to 8,000 globally. Since June 12, IBM has already cut over 3,300 jobs in North America, according to IBM labour union Alliance@IBM. It is thought that much of the rest would fall outside of North America.
Goldman Sachs attributed the first quarter results to stagnated growth for tech companies in emerging markets, which IBM, among others, increasingly relies on. Emerging markets accounted for nearly a quarter of IBM's revenue and drove around 80 percent of its revenue growth from 2010 to 2012.
After the firm downgraded IBM stock to neutral from buy, and slashed its profit and sales estimates, Goldman analysts said that they believe "pressures on IBM's growth markets and higher-margin revenue streams may intensify in the near term, weakening some of the key sources of IBM's earnings and cash flow resiliency in coming quarters."
They added that Goldman still thinks "IBM's long-term secular prospects remain sound," but the company "appears to be going through a challenging period" following bleaker IT spending and pressure on growth markets like Brazil, Russia, India and China.
Whilst IBM has denied to comment on whether any redundancies have or will fall in the Middle East, it is unlikely when considering there are little worries of stagnation in this region right now. Indeed, IBM continues to enjoy large growth in the Middle East.
"In our region, we're still bringing a lot of values in the team," says Refaat, IBM's Middle East GM. "We don't have the history of 30 years of people in the organisation.
"We have been growing a lot, so we're moving fast. In some areas, we're moving even faster than others. For sure, the areas that we have the potential to build more values are pillars that are really growing faster than others. If you look at it from a services perspective, the potential is very high and the growth is tremendous."
So perhaps the real worry doesn't lie at IBM, but further afield. Part of IBM's long-term appeal has always been its steady earnings growth in spite of uncertain tech spending in recent years.
What's more, in what comes as a sign of the company's importance as an indicator for markets in general, IBM is the most heavily weighted stock on the Dow Jones Industrial Average index.
Thus, a quarter of single-digit growth following many of double-digit growth is certainly a concern for IBM, but probably more so for competitors like Dell and HP, which continue to report plunges in revenue and profit in line with the unrelenting decay of the PC market.
"The analysts always expect to have great results for IBM," Refaat says, "So if you are a little off the expected numbers from the analysts, they get mad. It's a big thing.
"But then you have other competitors with nothing happening in the last 10 quarters and lost market share. The likes of HP and Dell have areas where I don't think the value is there. So you see now Dell is looking for somebody to buy because the value in the company is becoming lower and lower every day.
"These companies, I don't see the vision and how they will continue. They are really struggling because they don't have the same vision that we had a long time ago to bring the value."
That value, Refaat says, comes in delivering a solution "from A to Z".
"In IBM, we have a unique value proposition because we have all the pillars — the hardware, the software, the platforms, the system integration, the consultancy — to make it happen for our clients. This is the big difference between IBM and other players."
However, there is still no hiding the fact that IBM's value proposition was not enough to reach analyst earnings expectations for the first quarter.
Aside from the supposed stagnated growth in emerging markets, other analysts pointed to the dramatic decrease witnessed in hardware sales, which IBM did not counteract enough using the large growth in cloud services.
"We've been in the hardware market for a long time, and to keep growing every quarter is not an easy task," Refaat admits. "So for sure there are some areas where we need to enhance, but I see the steps that IBM is following as ones that will bring back the positive signs on the hardware."
Refaat was also keen to reveal that, perhaps surprisingly to some, IBM hardware sales are in fact growing in the Middle East. In this segment, the region that he's charged with managing has escaped much of the global woes. "It's not growing as fast as services," he says. "But it is growing."
No rebound
A rebound for IBM failed to materialise in the second quarter, as profit, sales and revenue further declined. However, operating earnings per share, excluding restructuring charges, was $3.91, above the analyst forecast of $3.77, and IBM raised its forecast for earnings per share for the year.
The decline in both profit and revenue was worse than last quarter, but traders, apparently pleased by IBM earnings-per-share numbers, boosted company shares in after-hours trading.
Though services and overall hardware sales dropped during the second quarter, company officials stressed strength in software and big systems.
"In the second quarter, we delivered strong performance in our higher-value software and mainframe businesses," said Ginni Rometty, IBM Chairman, President and CEO. She added that she expects improvement in the last half of the year, partly as a result of a number of restructuring efforts that include acquisitions, sales of non-strategic businesses and further skills rebalancing.
However, it was revenue in the Americas and Asia-Pacific which saw the dips, as EMEA revenue remained flat at $7.8 billion. Whilst figures were not revealed specifically for the Middle East, it is thought that revenue grew in the region.
"Things are changing," Refaat says. "And this is a constant in our typical IT market.
"So in the areas where we think values are lowering, we do some shuffling. This is the way we see it — we need to bring value and be more effective with our clients. This is the only way we have been perceived in the marketplace," he explains.
Despite these changing times, Refaat is far from worried about the future of IBM. In fact, he believes competitors are looking to IBM to know what to do next.
"Other companies are not shy to try to copy IBM models or even say so," he says. "When you talk to some of the executives from other competitors, they say they are trying to copy IBM."
And on one of his firm's competitors, Refaat adds, "You have seen HP saying it loudly in the market. They bought a consultancy firm and are trying to integrate it. I don't know how it's moving now, but I don't think it's moving well."
"The value we've seen now is we have all the components and are now trying to go to the next level, which is the client experience. This is what Ginni is focusing on right now; how we get our clients delighted, ensuring they are getting the proper attention, and meeting and exceeding their expectations. This is the next level."