Benny Czarny is the CEO, Founder & Chairman of the Board of OPSWAT, a leading global cybersecurity firm founded in 2002 to offer a special, market-driven approach to cybersecurity products and solutions that protect critical infrastructure. Since then, OPSWAT has been breaking new ground in cybersecurity by successfully identifying market needs and building, marketing and innovating on cloud-based cybersecurity products and solutions. Today, it has over 1,000 customers, 400 employees and 10 offices worldwide, and is trusted by more than 98% of nuclear facilities in the U.S.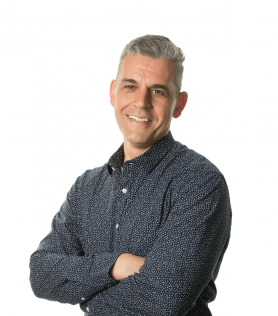 OPSWAT began in a very different, unusual way. Tell us more about the journey and your strategy in building the company. 
It all started with a vision and a global goal. When I started the company in 2002, I could, maybe, have raised money the usual way that most people do it, i.e., through institutional funding, but I found myself in the dilemma of spending most of my time selling products to people willing to use them or talking to potential investors. So, I found myself saying I'd take the hard way and then go all the way without anything else. So, without any capital investment or institutional funding, I went ahead with my dream and using my personal investments, initially started providing some professional services and used that fund to hire engineers to build the products that I had in mind. This gradually grew into the company that it is, today.  
OPSWAT is all about critical infrastructure. Tell us more.  
OPSWAT is all about protecting critical infrastructure and our primary goal is to eliminate malware and zero-day attacks. We believe that every file and every device poses a threat and these threats must be addressed at all locations at all times—at entry, at exit, and at rest. Our products focus on threat prevention and process creation for secure data transfer and safe device access. The result is productive systems that minimise the risk of compromise. That's why 98% of U.S. nuclear power facilities trust OPSWAT for cybersecurity and compliance. We believe every file and every device poses a threat. OPSWAT's Critical Infrastructure Protection Solutions are engineered to support our zero-trust philosophy and powered by a comprehensive, modular suite of products to address a wide range of cybersecurity use cases. 
 How important is the channel partner ecosystem, for your business? 
As a leader in critical infrastructure protection, OPSWAT brings innovative technologies and products to a company's existing security portfolio. Partners are critical to our success and we are always looking for solution providers, VARs, and system integrators to join our program. We believe that together, we can protect the world's most critical infrastructure. 
The OPSWAT Channel Partner Program is designed for VARs, MSPs, systems integrators, and other security resellers who are looking to expand their offerings to help companies protect their critical infrastructure. The program is flexible and offers options to meet the needs of a wide range of businesses. We support partnerships across a wide range of industries, around the world. 
OPSWAT also partners with technology leaders offering best-of-breed solutions with the goal of building an ecosystem dedicated to data security and compliance using integrated solutions. 
Tell us about the OPSWAT Cybersecurity Training Academy.  
The OPSWAT Academy was set up to address the Critical Infrastructure skills shortage through courses that promote the best practices and practical approaches that are successfully implemented in the most secure of critical infrastructure environments. 
OPSWAT Academy makes use of on-demand courses to train and certify professionals on cybersecurity concepts and best practices, critical infrastructure protection, as well as OPSWAT's range of products and solutions. We have both introductory and advanced courses available to cater to these needs and the Academy consists of subject matter courses designed for the learner to build their expertise using a phased approach. For current OPSWAT customers, the Academy also includes advanced training courses for greater ease-of-use efficiency when operating and maintaining all OPSWAT products and services. Each discipline certification is awarded for one year upon passing the exams on that discipline's courses in OPSWAT Academy. 
In fact, by prioritising technical skill development over a more traditional curriculum, the OPSWAT Academy is at the forefront of preparing the next generation of Critical Infrastructure Protection (CIP) cybersecurity professionals for jobs that are ready and waiting, today — whether it be a daily practitioner, a student or IT professionals interested in adding to their existing skill sets. 
How would you describe OPSWAT's collaboration with emt Distribution in the region? 
emt Distribution and OPSWAT address the cybersecurity challenges of critical infrastructures in the META region. The successful partnership has been instrumental in delivering world-class solutions and services and addressing the critical infrastructure challenges of key players like governments, oil & gas firms and banks in a highly specialised, unique manner.  
For instance, with the vision of 'Trust no file, Trust no device', OPSWAT's flagship technology OPSWAT Metadefender Core addresses the challenges of customers who do not want to compromise on the authenticity of the files entering their environment through any mediums, be it web/emails/USB/APIs and more. 
With module such as 'Multiscanning' where the power of 35 antivirus engines with the likes of Crowdstrike, TrendMicro, McAfee, and many more come to play and, 'deep CDR' (Content Disarm & reconstruction a.k.a. Data Sanitisation) OPSWAT Metadefender Core ensures every file is scanned and 'disarmed' from the most common attack vectors before reaching the user.