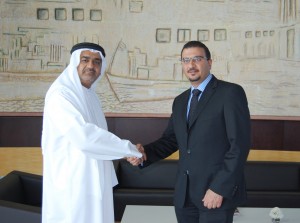 Dubai Silicon Oasis (DSO), the integrated free zone technology park, along with STME, an enterprise IT solutions integrator serving the Middle Eastern markets, has successfully deployed comprehensive ICT solutions – a project that incorporated solutions from major STME partners including Hitachi Data Systems, Symantec and NetApp.
The scope of work involved setting up a centralised storage array at the main site as well as a disaster recovery (DR) site linked to a redundant fibre channel fabric, by using Symantec Storage Foundation, solutions such as high availability for critical servers with remote failover, archiving and enhanced backup were also offered. The new solutions have successfully eliminated a single point of failure, simplified IT administration, reduced operational costs, and accelerated vital IT processes such as the recovery of files on network-attached storage after user-initiated file deletions.
Abdulsalam Bastaki, VP of IT at DSO, said: "It is essential for us at Dubai Silicon Oasis to make sure that our systems are in line with all ICT developments, especially at a time when the technology sector is witnessing an unprecedented evolution. We have chosen STME to implement and update our systems with the most efficient technology and solutions because of their sound understanding of the integrated free zone park."
DSO's partnership with STME reflects its commitment to ensuring an optimum return on its IT investments such as a fiber optic network and a Tier III data centre to cater to the diverse needs of its resident companies, 66% of which are technology companies, ranging from IT and electronics to telecommunications, semiconductor and energy companies
"STME has created a high-performance, high-throughput, scalable solution that delivers optimum value to the IT investments of DSO. Data security is paramount for DSO considering the nature of its business, which is why we have deployed a best-of-breed integrated solution for storage, backup, disaster recovery, and archiving of their email and file server," added Ahmed Galal, sales and marketing director, STME.
Dubai Silicon Oasis is a wholly-owned entity of the Government of Dubai and operates as a free zone technology park for the semiconductor, microelectronic and other high technology-based companies looking to set up their regional headquarters and R&D facilities in the Middle East and Africa region.