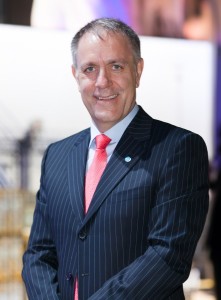 During its first participation at the Water, Energy, Technology and Environmental Exhibition (WETEX) Ericsson highlighted how smart solutions can transform utilities such as energy, water and sewage.
Ericsson predicts that by the year 2020, billions of devices will be connected to the energy smart grid; from street lamps, to home appliances and power pole transformers, to solar panels and wind turbines.
Commenting on Smart Grid Management, Rutger Reman, Head of Industry & Society, Ericsson, Region Middle East, said: "An increasingly networked world has profound implications for all of us. There has been a dynamic shift within the utilities industry; we are showcasing our Smart Grid solutions, which enable operators to decrease their carbon footprint by implementing smart metering aimed at improving connectivity for sustainability. As a global communications leader with extensive multivendor systems integration experience, Ericsson is well placed to partner with utilities as they transform their electricity distribution grids into smart grids."
Visitors at Ericsson's booth can get first-hand knowledge on Smart Grid Network Management and Grid Monitoring will improve the reliability of electricity networks by transporting real-time data from substations, field devices and smart meters so that it can be turned into useful information for field staff, engineers and households. Smart4Society will enable household's greater control over their bills and environmental impact through the use of the Internet of Things at Home. Furthermore, Ericsson will showcase Private Virtual Network operator (PVNO) an innovative machine to machine communications solution for Smart Grid Communication.