Blink Studios has showcased its latest mixed reality (MR) and virtual reality (VR) offerings with Microsoft's HoloLens and Samsung's Odyssey MR Kit at the Dubai International Film Festival (DIFF).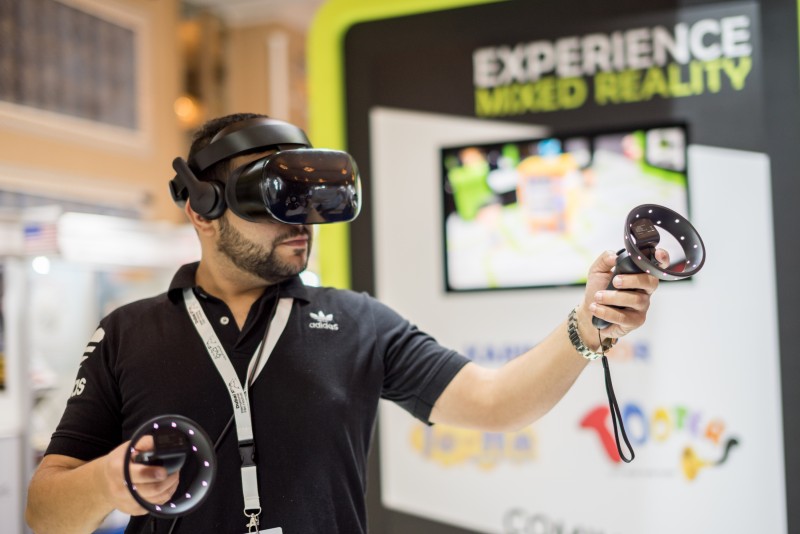 During the exhibition, which ran from 6th to 13th December, Blink Studios welcomed honoured guests including Major General Abdullah Khalifa Al Marri, Dubai Police Commander-in-Chief; the Dubai Police Team; and His Excellency Ludovic Pouille, French Ambassador to the UAE.
Microsoft's HoloLens and Samsung's Odyssey MR Kit enabled audiences to engage with digital content and interact with holograms in the world around them.
According to the firm, the technologies enhances digital content creation by taking interactivity and engagement to new heights with a mixed reality experience that brings people, places, and objects from the physical and digital worlds together.
Nathalie Habib, executive producer and general manager, Blink Studios, said, "DIFF supported our long-term strategy to further expand our mixed reality offering and become the top provider for the immersive experiences of the future. The response to Microsoft's HoloLens and Samsung's Odyssey MR Kit was overwhelming as they represent a new generation of technology in the film industry, where they have the potential to open up a world of fresh experiences for audiences and possibilities for producers. By sharing these technologies and exploring their potential with our peers during DIFF's panel discussions, we furthered our mission to enhance the role of new immersive technologies in the future of storytelling."
Technologies around VR are progressing fast as more content emerges pushing multiple industries, including media and entertainment to adapt. Last month, during Huawei's Ultra-Broadband Forum in China, Chief telecom officer of 20th Century Fox Film Corporation, Hanno Basse, highlighted that the firm is focused on delivering virtual reality experiences its films.
During DIFF, Habib participated in two key panel discussions including 'Welcome to the Third Dimension:  Innovations in VR, AR & Mixed Reality' with John Attard, Co-Founder & Chief Technology Officer of Playing Forward; Peter Martin, CEO of VALIS Studios; Romain Pradier, Production Director of DV Group; Alexey Morozov, CMO of VR Tech Group; and Lauren Selig, Co-Founder of Shake & Bake Productions. A second panel discussion, 'Let's Get Animated', took place with Ann Marie Fleming, Filmmaker of Window Horses Animated Feature; Fadi Baki, Co-Founder of Beirut Animated Festival; Mina Nagy Takla, Film Critic of The Syndicate; and Waleed Al Shehhi, Director of the DIMMED LIGHT screening at DIFF.