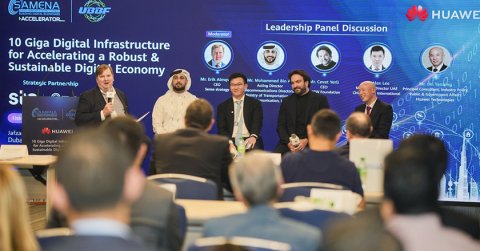 In collaboration with the UN Broadband Commission, Huawei recently hosted the Global Ultra-Broadband Forum (UBBF) 2023, bringing together international telecom carriers, industry allies, standards bodies, regulatory authorities, and experts in specific fields.
Their collective mission was to engage in discussions centered around productivity-focused UBB target networks in the age of smart connectivity, all while striving for enhanced UBB network performance and the maximization of its capabilities.
The overarching theme for this event was "Connecting Intelligence for New Growth." The event served as a platform for leading technology experts to share insights, discuss innovations, and engage with industry stakeholders to accelerate the transition towards a more intelligent world.
Over the past year, the UBB industry has made significant strides in setting standards and conducting technology research. However, with the growing integration of artificial intelligence (AI) into our daily lives, the demand for immersive and intelligent services has risen sharply. This presented a new set of challenges and opportunities for UBB networks. The Global Ultra-Broadband Forum (UBBF), an annual event in the fixed network industry, provided a crucial space to address these issues.
Regional leaders, such as Mr. Bocar BA, CEO of SAMENA Telecommunications Council, and H.E. Eng. Mohamed Ben Amor, Director General of AICTO, played a significant role in sharing their regional visions during the forum. Their insights underscored the importance of considering regional perspectives in the context of global technological advancements.
One notable panel discussion during the event was titled "10 Giga Digital Infrastructure for Accelerating a Robust & Sustainable Digital Economy." This discussion focused on the acceleration of 10-Gigabit network development in the Middle East and Central Asia, touching upon policy requirements, stakeholder collaboration, and the benefits of a 10-gigabit digital infrastructure. The panel featured prominent figures, including Cevat Yerli, CEO of TMRW Foundation; Alex Lee, Managing Director UAE, China Mobile International; Mohammed Bin Ali, Acting Director, Telecommunications Directorate, Ministry of Transportation and Telecommunication, Bahrain; and Lin Yanqing, Principal Consultant, Industry Policy Public & Government Affairs, Huawei Technologies.
Lin Yanqing of Huawei emphasized the significance of 5.5G as the evolution of the 5G ecosystem. This advancement offered network upgrades, allowing for 10 Gbps experiences, 100 billion connections, and native intelligence for services. Huawei's vision of a "Gigabit Society" aimed to harness technology for ubiquitous connectivity, driving growth and innovation across industries in the Middle East and Central Asia.
Bocar A. Ba, CEO of SAMENA Telecommunications Council, stressed the importance of unlocking capital to support 5G-Advanced and address connectivity gaps in underserved areas. The SAMENA LEAD awards recognized the pivotal role played by individuals and organizations in the development of 5G.
Huawei's perspective highlighted the role of ultra-broadband networks as vital infrastructure in the intelligent era. The company aims to create an intelligent world built on enhanced connectivity, which calls for extensive digital infrastructure. The foundation for a 10-Gigabit city is a 10Gbps network, which efficiently connects offices, production units, and business branches. Wi-Fi 7 technologies further enhance connectivity by providing 10GE wireless access to Access Points (APs) and 10GE wired access to rooms.
The UBBF underscored the need for UBB networks to keep pace with the rapid evolution of intelligent transformation, ushering in the UBB5.5G era of intelligent connectivity. Some Middle East countries have taken the lead in embracing the Gigabit and 10 Giga era. Their governments have played a pivotal role in shaping telecom infrastructure guidelines, fostering collaboration, and promoting standards to expedite technological progress.
This forum marked a significant milestone in discussions about the digital infrastructure shift that is crucial to supporting the digital economy and sustainable development goals (SDGs) in the region. In an age characterized by rapidly advancing digital technology, AI is at the forefront of reshaping our lives and work. The focus has shifted from the "connectivity of everything" to the "intelligent connectivity of everything." This shift is propelling the expansion of digital services and reshaping our daily lives and work.
In today's rapidly evolving digital landscape, industries are undergoing extensive digital transformation, leading to the convergence of the physical and virtual worlds. This convergence has given rise to a plethora of new digital services, creating fresh opportunities for carriers. However, these new applications demand increased network capacity, reliability, flexibility, and efficiency, especially as they become more immersive, cloud-based, and IoT-driven.
Recognizing this trend, global industry leaders reached a consensus during UBBF 2022 in Bangkok, Thailand, on promoting F5.5G and Net5.5G standards and related technologies, applications, and ecosystems. This agreement, established under the theme of "UBB Target Network Construction in the 5.5G Era," has driven the development of the UBB industry.
Applications like generative AI-based 3D videos, AI assistants, and digital-intelligent transformation in industries necessitate high-quality 10 Gbps connections for individuals, homes, and enterprises, 400G metro networks, and 800G backbone networks. As AI foundation models expand in complexity, they require improved data center network (DCN) performance in terms of bandwidth, latency, and packet loss. The increasing diversity and complexity of services also call for AI foundation models for autonomy to enhance operational efficiency.