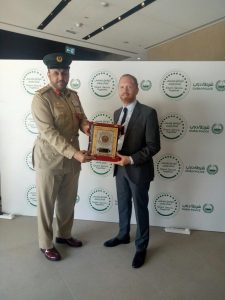 At the fifth edition of the Internet of Things Middle East 2018 conference, taking place at Armani Hotel Dubai, Dubai Police discussed key features of its Oyoon (Eyes) project launched at the beginning of this year. The firm aims to manage and connect 10,000 surveillance cameras under one roof.
Speaking exclusively to Tahawul Tech, Brigadier Abdullah Bin Sultan, director, Foreseeing the Future and Decision Making Support Centre, Dubai Police, "Our aim is to build community policing. We want to collaborate with the people and with our systems to ensure everyone's safety. We already have community policing in small ways, however, we need to increase the level of happiness and safety within our community."
Expected to be ready before Expo 2020, the law enforcement agency said the project will be implemented with the support and participation of governmental, semi-governmental and private sectors.
Sultan added that the cameras will feature technologies ranging from Internet of Things, artificial intelligence and smart cameras, which will have many facilities.
He added, "Through Oyoon, we are centralising all the cameras within Dubai jurisdiction as we need to focus more in the areas that will grow in the future. Our intelligent camera system will be able to collect and assess data real time through artificial intelligence in order to keep our people safe and secure."
The data could be related to security vulnerabilities, crime or even traffic violations.
He said, "All cameras will be integrated in one control room within Dubai Police."
According to the law enforcement agency, "Oyoon anticipates crime before it happens and before the police is notified."
It is also expected to make a quantum leap in terms of the efficiency of human resources utilisation as it will reduce human intervention and involvement in the areas of monitoring, control and analysis. The project is expected to largely focus on three sectors – criminal, traffic and tourism.
Dubai Police presented an award to the organisers of Internet of Things Middle East 2018 conference for taking the initiative to educate and build market awareness around this technology.