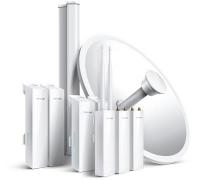 TP-LINK has introduced Pharos series, an outdoor wireless solution, designed for long distance wireless backhaul, point-to-multipoint connections and outdoor Wi-Fi coverage solutions.
Pharos series products use flexible and cost-effective wireless connection to replace the expensive fixed wired connections for outdoor networking applications, including Base Stations, CPEs, various types of external antennas, and a centralised management software.
With Qualcomm Atheros enterprise level chipsets, high gain antennas and high power amplifiers, the Pharos series are built to maximize and stabilize long distance wireless transmission performance. In addition, the specially designed weatherproof enclosure and PoE power supply ensure that Pharos series can be used in various weather conditions, from dry to humid, in temperatures from –30°C~70°C (-22℉~158℉).
As network scale increases and wireless environment is becoming more and more complex, wireless competition and collisions among wireless devices will be so enormous that the real throughput of the network will drop, resulting in a serious impact on end-user experience. To eliminate these effects, TP-LINK's Pharos series develops proprietary MAXtream TDMA Technology to incredibly improve wireless performance of large scale network in complex wireless environments.
Pharos Control – TP-LINK's intuitive and user-friendly Centralized Management Controller Software, allows administrators to easily manage all the devices in their network from any PC, with no extra cost or special training. Functions like device discovery, status monitoring, firmware upgrading, and network maintenance can be all be remotely managed.