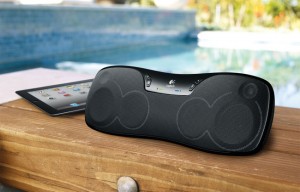 Logitech's $150 Wireless Boombox looks quite like some of its siblings, especially the Rechargeable Speaker S715i. I really liked the S715i, and I really like the Wireless Boombox, too. The primary difference between the two is that the Wireless Boombox—the focus of this review—gets audio from Bluetooth or an auxiliary-input jack, whereas the S715i employs an iPhone/iPod dock.
The all-black Boombox is long and slim: 18.8 inches wide, 5.5 inches tall, and 3.7 inches deep. The unit's meant to be portable, and it is, weighing in at just over four pounds.
The speaker's face bears just four buttons: Power, Volume Up, Volume Down, and Bluetooth. In my testing with an iPhone, an iPad, and a Mac, pairing was simple. The Boombox can pair with up to eight devices simultaneously, although it can be connected—actively used for audio playback—to only one of those devices at a time. There's no remote control included with the Boombox, which makes some sense for Bluetooth playback, the assumption being that you'll control playback from the audio source.
Also on the front of the Boombox are two LEDs. One light shows whether the unit is charging (pulsing green), fully charged (solid green), half charged (solid orange), or about to run out of power (red). The second LED indicates Bluetooth status. It blinks blue in pairing mode and shines solid blue when the system is actively connected with a paired source. Logitech says you should expect about six hours of battery life from the Boombox, and that meshed with my experience.
On the rear of the Boombox are a kickstand that springs out at the press of a bright-orange button, as well as a rubber tab that folds out to expose the unit's AC-adapter port and a 1/8-inch (3.5mm) auxiliary-input jack. If you connect an audio source to that auxiliary input, the speaker automatically disables Bluetooth playback.
The Boombox employs a pair of 3-inch neodymium drivers, a pair of 0.5-inch neodymium tweeters, and four 2-inch passive radiators—two of which are rear-facing and serve as woofers. Unsurprisingly, the Boombox provides more oomph when plugged in than when running only on battery power. Plugged in, the system offers rich sound, with sold midrange performance and bass presence that's impressive for its size. When running off its internal battery, however, the Boombox sounds not just quieter, but notably tinnier, with much of that bass presence vanishing. (When connected to an audio source using the auxiliary-input jack, battery-powered performance is noticeably better than when connected via Bluetooth—likely because Bluetooth requires power that would otherwise be directed towards audio output—but it's still not as good as when connected to AC power.)
Macworld's buying advice
If you intend to use the Wireless Boombox mainly with an iPhone or iPod, the similarly-priced S715i may be the better option: It charges your device while you listen to music and includes a (tiny) remote. The S715i also sounds better on battery power compared to the Boombox. But if you like the freedom Bluetooth affords, if you want to use the speaker with an iPad or your Mac, or if you intend to use the Boombox mostly plugged in, it's a fine option.