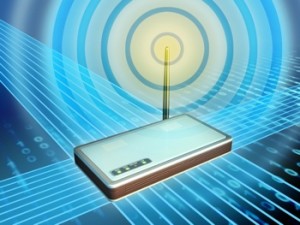 Wi-Fi is blossoming in the enterprise as organisations find new ways to leverage the wireless infrastructure and workers, having benefited from mobility, demand increased range and better performance – and support for all those devices they are bringing in from home. The industry is responding by introducing new products and technologies, including gigabit Wi-Fi—802.11ac. And it's up to the IT to orchestrate this new mobile symphony.
What is 802.11ac? This is the wireless standard that has replaced 802.11n at the top-end of the Wi-Fi market, and while uptake of this new standard has been somewhat slow, we are now starting to see more devices being released with support for the faster transfer rates that it can provide. Speeds available from 802.11ac wireless routers vary – starting at 867Mbps – but there are now products on the market that support rates of up to 1300 megabits per second (Mbps). The 802.11ac standard runs in the 5GHz frequency band, which means you won't have to run it on the congested 2.4GHz band – though you can still run the 2.4GHz network simultaneously – and some routers that use the standard to also implement new features such as beamforming antennas, which can adapt to the way signals are sent depending on the environment.
While many IT shops are still digesting major investments in 802.11n, the next big upgrade in wireless technology has arrived in the form of 802.11ac. Apart from higher data rates, are there any other reasons for enterprises to transition to this new wireless networking standard, especially given the fact that many enterprises have just upgraded to 802.11n?
"Aside from the higher data rates, the 802.11ac standard also provides better range and is more efficient for battery-powered devices," says Mike Duin, Global Marketing Manager, Linksys. "The 802.11ac technology provides higher data rates which are beneficial to enterprises that are facing an increase in connected devices. Broadband speeds are increasing faster lately than the actual network transfer speed – in order to benefit from the available bandwidth companies need to make sure their network is fully up to date to provide high speed connectivity to employees and visitors."
Tariq Hasan, Regional Sales Manager, Motorola Solutions, says another good reason to deploy 11ac is Multi-User MIMO or MU-MIMO which supercharges the MIMO capabilities. "While 802.11n's "single-user" MIMO will only benefit a single device at a time, 802.11ac MU-MIMO allows multiple streams to be assigned to different clients, increasing the effective bandwidth that can be transmitted simultaneously."
Saadi Kawkji, Senior SE Manager, Aruba Networks, says the higher rates and increased capacity of 802.11ac will break down the last remaining barriers to the all-wireless office. "There should be enough capacity in an 802.11ac WLAN for users to see equivalent performance to wired Ethernet. 802.11ac is able to meet the performance and density demands of today's mobile environment and the future. With achievable speeds reaching 750Mbps of TCP to a single 3 stream client and up to 250Mbps to a single stream client like a smartphone, it is able to deliver a 3X performance boost to the network without demanding a large price premium."
With over 100 Wi-Fi Alliance certified 802.11ac Wave 1 products shipping today, incorporating the Wi-Fi Alliance certified Wave 1 AP's into the network architecture enables organisations to deliver high performance for these 11ac clients while maintaining backwards compatibility with the existing 802.11n devices. Leveraging the enhanced RF designs and faster CPUs in today's 802.11ac products, even legacy 802.11n devices will see better range and performance from an 802.11ac access point. 11ac also offers a better performance at a lower cost in terms of power. One can get a lot of bandwidth for less power, so it's a potential positive for green initiatives as well.
The price differential between .11n and .11ac products has also come down significantly, making it difficult for IT organisations to justify continued purchase of .11n products.
"The price difference depends on the AP model and the capacity model in terms of hardware because it is not only the radio which is affecting the price. But 11ac with the highest-end 11n model, it is approximately 20 to 30 percent more expensive," says Kawkji.
Duin adds that the price premium isn't that signified compared to high-end 802.11n routers. "In our consumer line-up we have upgraded the top end of our router line-up already to 802.11ac last year because the price difference was so limited."
Another reason to make a case for deploying 802.11ac is backward compatibility. However, enterprises would need to change client adapters in order to make the move.
"Client adapters would definitely require a change because without 11ac adapters, an organisation will not be able to get a higher data rate. It is not mandatory to replace all access points. We have seen some customers moving to 11ac partially for example, in all locations where high bandwidth is needed, and they only replace the access points supporting those locations," says Kawkji.
What will be the impact of 11ac on edge switches and backbone networks? Do enterprises need to upgrade their network infrastructure to support 11ac?
"802.11ac Wave 1 is really the last generation of Wi-Fi that allows IT departments to leverage their existing switching infrastructure without requiring major upgrades. With future Wave 2 speeds likely to reach 2 Gbps over the air, the uplink performance requirements will exceed the existing Gigabit Ethernet (GigE) ports and will require the use of either multiple GigE ports to the access point or even 10GigE," says Kakwji.
In terms of power needed, the 11ac radio can work with full performance on both 802.3af and 802.3at enabled edge switches. 802.3at is recommended to enable full performance on the 11gn radio as well which is normally reduced to 1×1 MIMO in case of 802.3af power supply. On the other hand, 802.11ac needs high performance wired networks as it can support up to 1.7Gbps. Having high-end edge switches and 10Gbps distribution switches will help in minimising bottle necks in the network.
"Each 11ac access point can, in theory, throw 1.2Gb of data on the switch. The wired network should not end up being a bottle neck. Any good enterprise switch with GE ports can handle such traffic," says Hasan.
802.11n may still have roughly five years of strategic useful life ahead of it, but all IT shops should have at least pilot deployments of 802.11ac underway at this point, according to Farpoint Group.
Why? It's simple. With dramatically increasing number of users, and the requirements for the wireless LAN to support every application, 11ac is arriving at what might be described as just the right time.