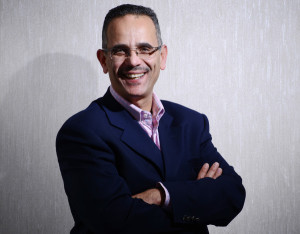 Ihab Al Saheli, General Manager, CNS, discusses company plans and how the industry is evolving with the current market trends. 
What have been some of the highlights at CNS in 2014?
Last year, we have seen major breakthroughs in two different areas. At CNS, our primary business focuses include payment systems, payment gateways and Electronic Funds Transfer (EFT). Last year, we expanded our coverage in these solutions beyond the UAE and now have major installations in Oman, for both payment systems and EFTs. Earlier, we focused only on local banks but now we have expanded our operation to cover multinational banks in the country. This line of business – the payment systems and EFTs – have shown a sustainable growth year-on-year.
The second area is around cloud. Assessing the market opportunities, we had partnered with VCE last year for converged infrastructure, and we are seeing the fruits of the partnership now. We did more than one transaction for converged infrastructure and we will continue to focus on it.
Last year, we were also able to grow our managed services business, which is a critical line of operation for CNS. We also managed to add couple of major deals into our clientele, and we will continue to focus on that.
Were you able to make margins from hardware?
We made a noticeable growth in terms of our revenues from hardware. However, the entire market is still struggling with the margins from hardware. Although we did improve, it is not in line with the growth in the revenue itself. Another growth area that has helped us in terms of numbers is services. For example, integration services, managed services, and Annual Maintenance Contract (AMC) services, which we will continue to focus upon. The challenge is as more people move to cloud, the demand for AMC will reduce and the demand for managed and integration services will increase. This is the way we are foreseeing it and we are reshaping the organisation accordingly.
As an SI in today's ecosystem, what kind of challenges do you face?
From the perspective of the whole industry, the major challenge SIs face today are the expectations from both, the technology owners and the customers. Often, we find ourselves in situations where customers are expecting the services to come from the vendors and at other times, when they are expecting it from the SI but the vendor wants to provide it himself. This is a challenge. And there is no clear solution around this except 'value'. The customer and vendor must realise and appreciate the value that is provided by the SI. But this area will continue to be vague.
How does an SI go forward in a cloud-enabled environment?
We believe the role of an SI will continue to exist in such an environment. Traditionally the SI's role included their ability to integrate the different systems. However now with the advent of cloud, the demand is moving more towards systems that are already pre-integrated. This is where one needs to start thinking about the type of consulting and architectural framework that needs to be delivered to the customer so that as an SI, you build their cloud presence appropriately.
Also, as the market and the customers are moving towards cloud, there are certain services that are associated around it, which must be provided. And that is also creating subsets of services, which are required by customers. People are moving towards the cloud in a phased manner because of which integration is required. These integrations are permanent or transactional or even transient in nature. This creates subset of services, which we are delivering to our customers.
Are SIs moving towards the role of consultants?
They should be prepared to move to that role, however I don't see this happening in 2015. But I think three years from now, SIs who don't have solid consulting practices, will find it difficult to survive. Although I believe a pure consulting model will not work for SIs as there will be a conflict of interest. We play the role of technology or integration consulting as part of the services we provide to our customers.
What are CNS' plans for this year?
In 2014, we had expanded to Oman and we will continue our investment there this year. We are also looking to address Qatar as a market this year and will be selective about certain opportunities in other GCC countries, especially Saudi Arabia as the potential is large.
For 2015, we have identified three growth areas in terms of our portfolio – cloud, mobility, and we want to reposition ourselves in security. We have been doing security but have not been aggressive enough, and will look into revamping it. We are also packaging and productising our managed services offering. Usually, there is confusion in the market regarding which company is doing what kind of managed services. We believe that we have identified our core competencies and will be packaging our offering around network, security and infrastructure management services.
We also plan to increase our headcount by around 8 or 10 percent.