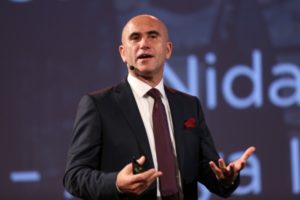 Digital transformation (DX) projects will fail if they aren't embraced at all levels of the organisation, Avaya told delegates during the Avaya Engage event in Dubai.
The four-day event brought together senior executives, industry leaders, technology innovators and key decision makers from different industry sectors to help them achieve their digital transformation objectives.
With organisations globally facing challenges to evolve digitally and move agilely in today's competitive markets, CEOs are increasingly putting digital transformation and customer engagement at the top of their corporate agendas. However, as many as 84 percent of DX projects fail to achieve their objectives, according to research, with many organisations failing to secure the required levels of "buy-in" from their workforce, partners and customers.
"In today's digital business world, just about every organisation, company and industry sector has access to digital technologies – the gap now is between the "haves" and the "have mores": those organisations that are using their digital capabilities more effectively to innovate and transform their operations. We are seeing a new digital divide: the DX divide," said Nidal Abou-Ltaif, President, Europe, Middle East and Africa and Asia Pacific, Avaya.
He further underlined that organisations need to ensure that DX projects are supported by the workforce, and that the workers have the right training, tools and technologies to properly implement them. "DX projects also need to deliver the differentiated experiences that customers are looking for, and that will encourage them to do more business with an organisation," he said. "Companies also need to understand that DX projects are extremely complex, involving change at all levels of the organisation. Accordingly, organisations need to be aware that these can't be delivered alone, or by a single vendor, requiring them to create an open environment to drive innovation."
During his keynote presentation, Abou-Ltaif also placed the spotlight on two companies that are succeeding in their DX objectives:
Emirates NBD: The bank delivered innovative solutions for customers' everyday banking processes, making it the leading digital bank in the Middle East. The bank has also successfully embraced technologies like analytics and artificial intelligence (AI) to create the blueprint for banking in the future.
dnata: The organisation embarked on a DX project with Avaya to transform its customer experience. Avaya Private Cloud Services (APCS) is helping to create a "seamless, personalised experience for dnata customers and partners and across every communication platform in the customer journey."
"Organisations need to democratise digital transformation: a top-down from the boardroom approach won't work if it doesn't engage the people it is supposed to help. DX projects should be: user-defined, bringing together customers, employees, and partners; and platform-driven, with organisations creating an ecosystem for innovation. Avaya is committed to helping organisations achieve their DX objectives, and we are working closely with many customers across different industry verticals to help them achieve their goals. Our industry-leading Net Promoter Score of 58 – well ahead of our competitors – demonstrates the depth of our commitment to delivering the right customer experience," said Abou-Ltaif.
Avaya ENGAGE, held at Atlantis the Palm, Dubai, has brought together more than 1,500 senior Avaya executives, industry leaders, technology innovators and key decision makers, from more than 70 countries.