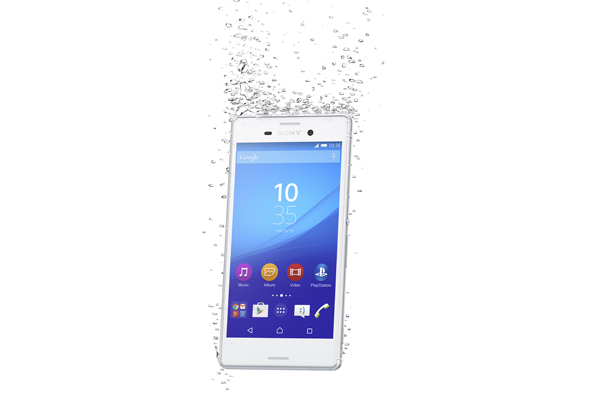 James Dartnell takes Sony's latest mid-range smartphone for a spin, and decides if the waterproof product sinks or swims.
In terms of size, the phone measures in at 145.5 x 72.6 x 7.3mm, and is a nice halfway house for users who are fans of 5"+ screens, and those who prefer the slightly smaller iPhone-esque shape. The resolution of 720 x 180 pixels satisfies on a simple IPS LCD panel, and its colour is boosted by Sony's Triluminos display and Bravia tech, providing added vibrancy.
Sadly, the same can't be said of its camera. Although theoretically a sound option with its 13MP, image quality doesn't seem to stack up with the numbers, with sharpness not an ever-present, particularly in bad light.
One of the M4 Aqua's biggest strengths is undoubtedly is long battery life. It seemingly never dies. The 2400 mAh battery, supported by the Qualcomm Snapdragon 615 Octa Core processor, really does go the extra mile. The device stays switched on for days at a time, and although it may not match up with that of the Z3 Compact, it's still a key selling point for the device. The battery saver feature – activated once the device's power drops below 20 percent – although occasionally downright irritating, turns off Wi-Fi, GPS and auto-sync off automatically.
Coming in single and dual SIM options, the phone features a microUSB 2.0 port for charging and data connections and offers LTE support, and – a neat surprise – comes with Android 5.0 out-of-the-box. In terms of storage, the 16BG – as opposed to its 8GB counterpart – is preferable for obvious reasons.
The user interface is intuitive, with apps laid out across multiple pages, on which they can be uninstalled, and more can be downloaded.
If you're a purist for style and personalisation then this may be one to avoid. As is often the case with a number of other Sony smartphones, the range of accessories on offer is practically non-existent. The phone also bears a strong resemblance to its cousin, the Xperia Z3.
The Xperia M4 Aqua's name suggests promising things off land. Granted, although the phone does pass waterproofing tests, being able to actually use it once it is wet is a real pain. The device will arbitrarily push buttons, respond to very few actions the user the initiates.
Another concern, the Xperia M4 Aqua does overheat easily, even if left charging for a relatively short period of time.
That being said, as mid-range Androids go, it's a very satisfying package with decent value for money around $330, but it's entered into a tough market. The device has its minor frustrations but is ultimately well designed and intuitive to use. Here's hoping it can do itself justice.