Ask any expert, and he'll tell you that the BlackBerry 10 operating system hasn't caught on so quickly because there aren't enough apps available for it. But that doesn't mean there aren't any good apps at all to download. With that in mind, we've hand-picked the most popular BlackBerry 10 apps of the month so that you can get the most from your Z10 handset.
1 – Zomato for BlackBerry 10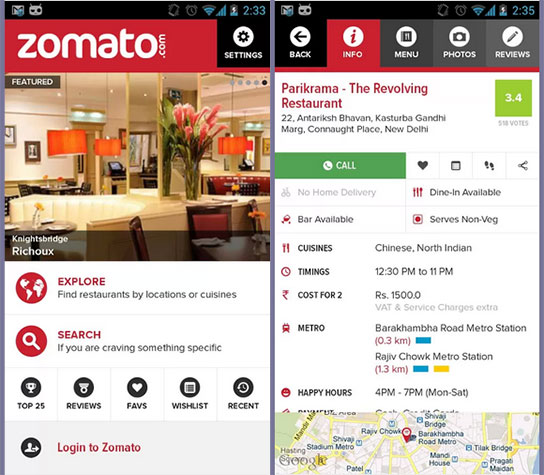 Zomato Restaurant Finder is great because it caters to users across the world. Whereas most are only available to users in the UK, Zomato gives users restaurant recommendations in India, the UK, the UAE, the Philippines, South Africa, New Zealand, Qatar and Sri Lanka. The app looks at your current location and suggests great places to eat nearby. You can look at menus, pictures and maps for over 110,000 restaurants, according to the developer. Of course, ratings and reviews also feature heavily, meaning you'll know if your next dinner date is going to be any good. You can download the app from BlackBerry App World here.
2. RTA Dubai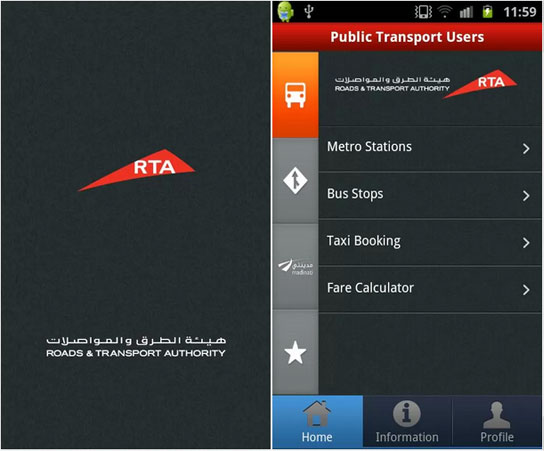 RTA Dubai offers a portal into pretty much all the official services you'll ever need when it comes to transport in the UAE. For example, the application can locate you on a map and tell you where the nearest service centre is. If you need to catch the Metro or a bus, it'll tell you where your nearest station is. There's also a nifty fare calculation feature that will come in especially useful if you're running low on Nol credit. For drivers, you can run the m-Parking service through the app. As opposed to the text-messaging system, the app will let you simply input your details, find the area in which you're parking, and then send the message to activate the parking meter, so you don't need to worry about getting any details wrong. The app also offers a taxi booking service according to specified pick-up and destination addresses defined by the user. You can download the app from BlackBerry App World here.
3. MyAccountant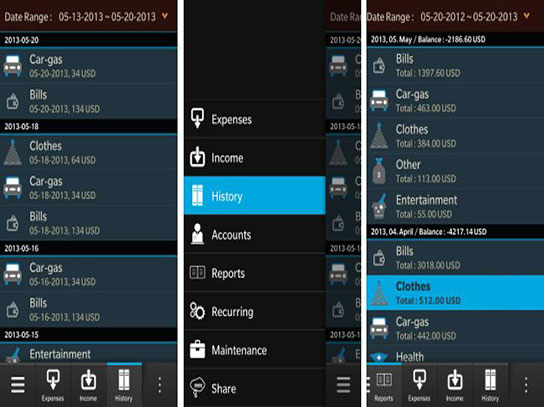 This app effectively converts your BlackBerry into a pocket accountant. It features a detailed financial tracker that will help you manage your budget and avoid destitution. It's not a free app  but MyAccountant is so useful for expense tracking that it makes for a great investment. It's nicely laid-out with a gentle learning curve, and the ability to export reports and data is very handy. Staying on top of your money is vital and this is the app to do it with on BB10. You can download the app from the BlackBerry App World here.
4. DEWA for BlackBerry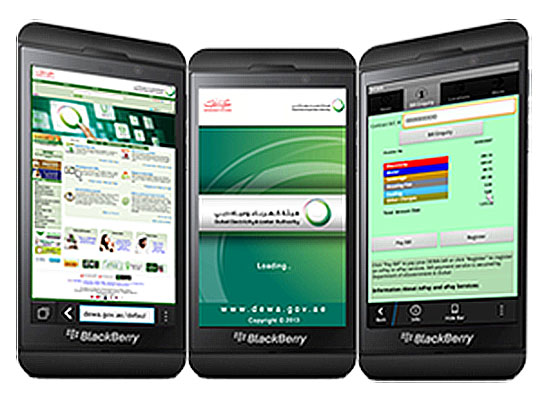 This is another great app for Dubai-based users, and, like the RTA's app, it offers pretty much everything you'll need in order to stay on top of your DEWA account. Available in Arabic and English, the app provides information on customer care centres, and allows you to pay your bill via a number of payment options. There's also a feature that allows users to log complaints, and with them a GPS location, so that DEWA knows where you are. All the latest DEWA news is also featured on the app. You can download the app from BlackBerry App World here.
5. Navita Translator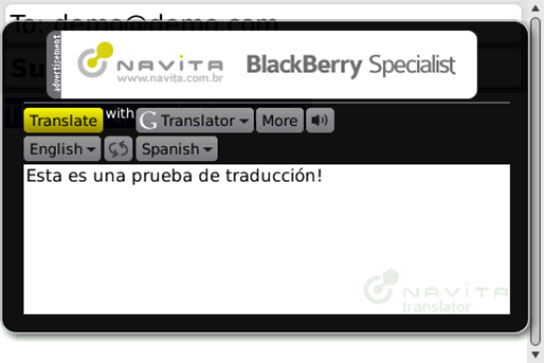 Supporting 60 languages and counting, this free app will come in extremely handy if you're travelling to a new destination. You simply have to type in the text you want to translate, select your language, and you'll get a text translation. You can also grab text from an email, a website, or a text message. What's really nifty, though, is that the app will read out your translation upon you tapping the loudspeaker icon – great for when you're not confident about the pronunciation. The interface is somewhat basic, but it's easy to use and it's fairly accurate. You can download the app from BlackBerry App World here.
6. SayIt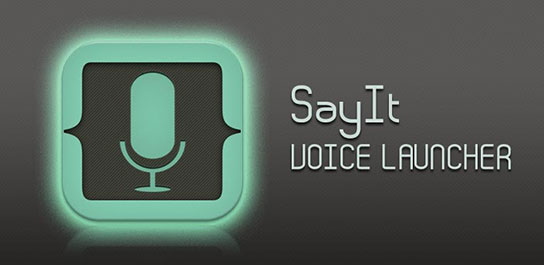 People envying the iPhone users with Siri, or Android users with Google Now, can now pay for a BlackBerry equivalent. SayIt is a voice-activated personal assistant, built especially for BlackBerry 10. It is powered by Wolfram Alpha, so it can answer queries on everything from maths to history. You can also do Web searches, get weather information, find hotels or restaurants nearby, and there's a language translation feature. You can download the app from BlackBerry App World here.
6. Songza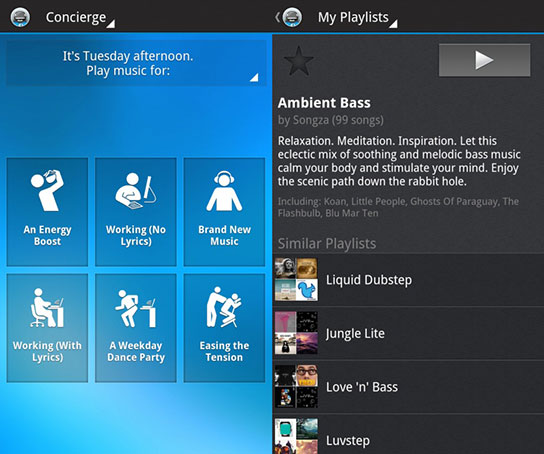 This is a free, music-streaming app that provides commercial-free playlists to suit your activity or mood. You kick off by selecting the category, whether you want work-out music, something for epic walking, or music for reading the paper. There are choices to suit any mood, and each playlist has been expertly curated. You can share your favourite playlists via social media and you can also find links to buy the songs you like. It's best used with Wi-Fi, so it doesn't eat too much data, but you can just as easily stream via your mobile data package. You can download the app from BlackBerry App World here.
7. AccuWeather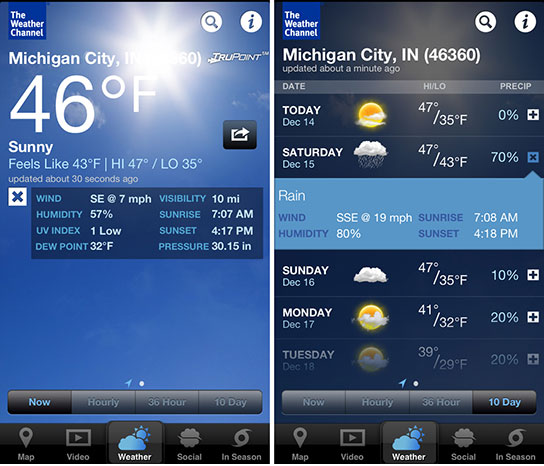 This has been a must-have app on Android and iOS for a while, and now it's made the jump to BB10. It provides free, up-to-date and reliable weather forecasts that pinpoint your location accurately through GPS. You can review up to 10 days of weather forecasts to help you plan any holidays ahead, and the app updates frequently to bring you the latest changes. You can even request push alerts to warn you about incoming severe weather. The app also has a host of additional features, from updates on flight delays to animated satellite maps showing weather fronts. You can download the app from BlackBerry App World here.
8. BlackBerry Travel for BlackBerry 10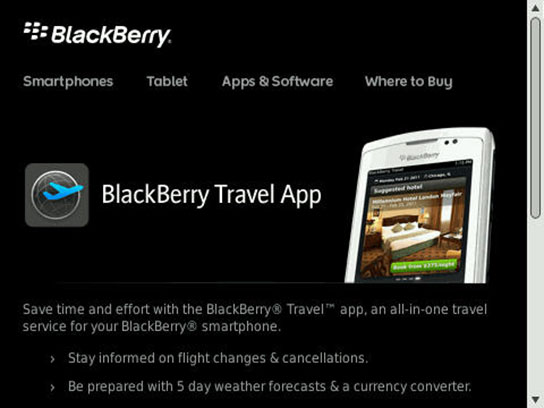 Available for free on BlackBerry 10, this is billed as an all-in-one travel app that allows you to plan, book, manage and share your travel directly from your BlackBerry smartphone. It provides the ultimate mobile travel management experience, keeps you moving and adapts to your needs. You can find a deal on hotel and car rentals, get real-time notifications if your flight's delayed or cancelled, and find a new flight right away. No matter where you do your booking, the automatic email trip scanning feature can pull your trip details into the app, so you don't have to. You can download the app from the BlackBerry App World here.
9. Kindle for BlackBerry 10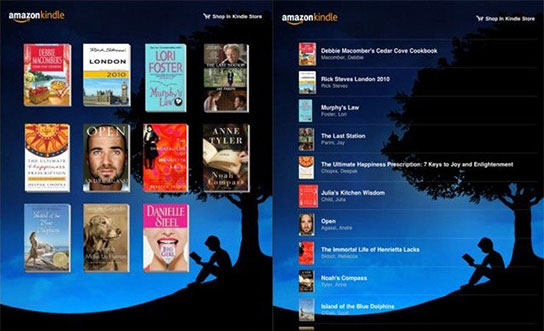 The Kindle app puts over a million books at your fingertips. It's the app for every reader, whether you're a book reader, magazine reader, or newspaper reader—and you don't need to own a Kindle to use it. Choose from over a million Kindle books from the Kindle Store or enjoy popular magazines like The Economist and Reader's Digest with high-resolution colour. You can download the app from BlackBerry App World here.
10. PlayCloud 10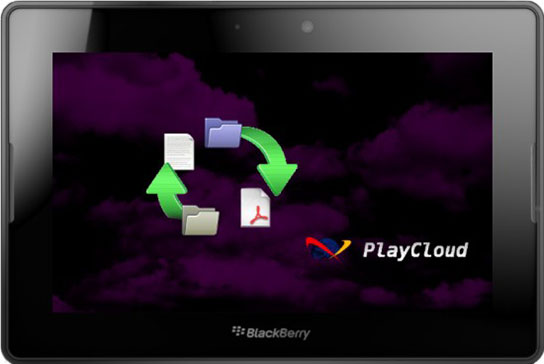 This is a fully native BB10 file manager that goes several steps further than necessary by including support for cloud services and even FTP access. It's basically for people who think that sticking stuff on Dropbox is simply too easy a way of doing things. The app lets you copy and move files between folders (complete with multi-select to ease the tedium of picking things out of lists). It also comes with social media sharing and remote printing, so it's easy to make your cloud objects tangible. You can download the app from BlackBerry App World here.