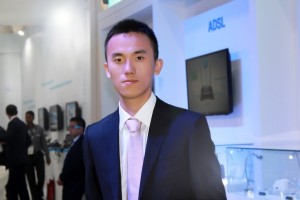 SOHO and SMB networking products and solutions, TP-LINK Technologies has signed a partnership agreement with Saudi Arabia-based retailer Jarir Bookstore.
According to the vendor, the deal with Jarir Bookstore will not only strengthen its presence in the KSA retail sector, but will open doors for its products to be sold in more than 30 stores that the retailer has across the Kingdom.
Lucas Jiang, Sales Manager, GCC Power Retailer and E-Retailer, TP-LINK Middle East, said the company is delighted to have partnered with Jarir Bookstore because it is known in the Saudi market for providing the best quality products and service to its customers.
"TP-LINK, as a leading SOHO and SMB product brand for networking solutions, is glad to work with Jarir Bookstore. We believe with a good cooperation, we both can have good profit from this alliance," he said.
Jiang added that Jarir Bookstore now has the opportunity to resell networking products to the consumers and TP-LINK will help the retailer to develop its store in the store concept. "We are hoping, TP-LINK becomes the top selling networking brand in KSA retail stores just like we are in the UAE," he said. "With the good quality products, excellent after-sales service and good product training to promoters, we should be able to help Jarir to develop the business in the retail segment across KSA."
According to Jiang, the biggest challenge in KSA is that most chain stores don't have enough shelf space for presenting the products. "In addition, we have done research in the local market and selected the most suitable items from our wide range of products to assure these fit in with the consumers' desire in the market," he said.
Mark Zhao, Country Manager, Saudi Arabia, TP-LINK Middle East, said currently, the company has only entered Jarir Bookstore and is providing consumers through this partnership several models. Zhao said in other retail outlets such as eXtra, Hyper Panda, Lulu and Emax, consumers can also find a limited array of TP-LINK's products.
"We have decided to focus on developing the business in power retailers and having Jarir as one of our main power retailers bodes well for our strategy of growing presence in the KSA retail segment," he said. "We are now working closely with Jarir and our Access Point portfolio has now been introduced in the store. "Eventually, we are hoping consumers enjoy the experience with the convenience provided by TP-LINK products in the KSA market."